Greetings Dunseith Alumni and Friends,
Again I am so sorry for the long delay in getting these messages out. I have not forgotten about you folks and will post whatever you send me.
Things have been rather busy for me the past few weeks.
Following covid shutdowns our Bowling has resumed. For lack of volunteers, I have ended up being the designated one in charge, keeping track of everyone's bowling Data; Scores, Averages, attendance, etc. Doing that I had to set up a computer excel program to manage all the data. That took some time too.
Please keep the postings coming.
Gary
Message from Vickie Hiatt LaFontaine ('73): Grafton, ND
Condolences to Gary Wenstad family
Forgotten Store Name:
Reply from Allen Richard ('65):  Grand Rapids, MI
Yeah it would be yellow corners I drove on highway 3 from density to rugby many times and that's the only place that resembled a store. It was kind of like the prairie version of Kelvin store.
Leland Stickland ('64) Memorial
Posting from Eric Stickland:   Melrose, Massachusetts
9/21/2021
Hello Gary,
I wanted to update you with information about my dad's memorial service; it will be held at 3pm local time on Thursday Oct 7th at Dickinson Cemetery.  I'd hoped that the pandemic would have been closer to being fully controlled by now, but I'm unwilling to wait any longer.  We'll be doing a graveside service to keep things as safe as possible for everyone, and hope the wind and weather cooperates.
I should have a written obituary to share with you soon.
Eric Stickland

Gary Stokes' comment.
Eric, I am so sorry I didn't get this posted before your Dad's memorial. Things have been pretty busy for me lately.
Please forward his Obituary to me when you have it prepared.
Posted by Don Malaterre (72)    Sioux Falls, SD
Linus Faine (Dunseith High School class of 1972)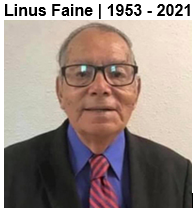 August 16, 1953 – September 14, 2021
Linus Faine, age 68 of Dunseith, passed away on Tuesday, September 14, 2021 at his home in Dunseith.  His funeral will be held on Tuesday, September 21, 2021 at 10:00 am at the Eagle Heart Cultural Center in Dunseith.  Burial will be at the St. Sylvan's Cemetery north of Dunseith.
Mary Eurich Knutson's ('62) son, Bobby Knutson
Posted by Neola Kofoid Garbe:  Minot, NDBobby L. Knutson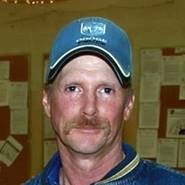 Bobby L. Knutson, age 58 of Bottineau, passed away on Wednesday, September 8, 2021 at a Bismarck hospital.  Keeping with Bobby's request, a private family service will be held. 
Bobby Knutson, a son of LeRoy and Mary (Eurich) Knutson was born on August 8, 1963 in Bottineau.  He attended school in Bottineau.  At the age of 10 he began doing yard work.  He later worked driving gravel truck for Les Bergeron.  Bob worked in Williston for time before going to work for Wenstad Trucking.  In 1982, he started driving truck for Bill Zorn.  In 1990, Bob went to work for Mikkelson Aggregates in Bottineau where he had worked since.
He is survived by his mother, Mary Knutson  of Dunseith; sister, Sally (Archie) Metcalfe of Dunseith; nephews, Logan (Brittany) Metcalfe and Trenton (Kendra) Metcalfe all of Bottineau; niece, Jordan (Stewart) Oein of Bottineau; great nieces and nephews, Zoey Metcalfe, Gunnar Metcalfe, Baylor Metcalfe, Kahlan Oein, Liam Oein and Finely Oein.
He was preceded in death by his father, LeRoy "Bud" Knutson.
Arrangements were with Nero Funeral Home in Bottineau.
Gary Stokes' message
We extend our condolences to Mary and all of her family with the passing of her son Bobby. I Didn't know Bobby, but I knew his parents, Bud and Mary very well. Like his parents, I know he was a good outstanding citizen.