Happy birthday Pam Fassett Faust ('47): Lilburn, GA.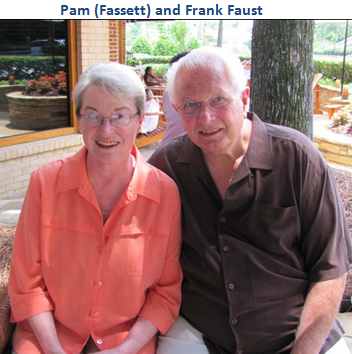 Happy Birthday Jan Hosmer Cobb )'60): Wilsonville, OR.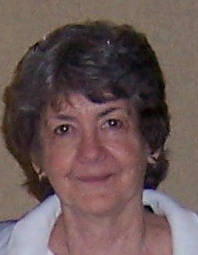 Reply from Pastor Orval Moren:  Coon Rapids, MN
From Orval Moren
Thanks to you or someone for including me in the e-mails.
I am not all that gifted and learned with  the computer.
But at 85, I have learned a few moves.
Pastor Moren
Reply from Marlys Zorn Bryan ('62):  Fairbury, NE
I too want to say how grateful I am for the ministry of Pastor Moren in Dunseith at Peace Luthren.  I was raised in that church until we moved away when I was 12.  When I experienced other churches, I realized what a special thing Pastor Moren achieved.  Because of him, Peace Luthren was always a  warm and welcoming place, a place where I felt Jesus, and felt that Jesus loved me.  Pastor Moren is one of the reasons I follow Christ today.  I'm  so grateful for this opportunity to finally say 'thank you' to him.
Thank you for this gift of communication that you give to all of us, Gary.
Marlys Zorn Bryan,  Fairbury, NE.
Ronnie Medrud Memories
From Lee Stickland ('64):Dickinson, ND
I was not aware of actual date or possible circumstances RE: Ron's death.  After the many car-related shenanigans Ron and I devised and endured, it is partially understandable that his death would have a connection to cars.
BUT for his vehicle to fail in such fashion is beyond a good-guess.
I had a chance to ride with RON for an hour or so on patrol while he was in law enforcement.
He understood and respected his duty.
LEE
Posted by Neola Kofoid Garbe:  Bottineau & Minot, ND

Larry Belgarde
(September 28, 1959 – November 25, 2014)
Send Flowers Send Sympathy Card
Guest Book | Sign Guest Book
LARRY JAMES BELGARDE
Larry James Belgarde, age 55 of Dunseith, passed away on Tuesday, November 25, 2014 at a Minot hospital. Funeral services will be held on Monday, December 1, 2014 at 2:00 P.M. in the Dunseith City Hall. A wake will be held on Sunday beginning at 4:00 P.M. in the Dunseith City Hall. Burial will be in the Belgarde Cemetery of rural Dunseith.
Larry James Belgarde, a son of Roy and Margaret (St. Claire) Belgarde, was born on September 28, 1959 at Belcourt. On November 26, 1977 he was married to Velda Houle at Dunseith.
He is survived by his wife Velda at home; daughters, Laurie (Jawon) Christopher and Sarah (Michael) Selburg; sons, Todd (Christina) Belgarde and Nathanael (Taylor) Belgarde; 7 grandchildren, Malaika Belgarde, Laney Belgarde, Peyton Belgarde Nathanael Belgarde Jr., Aaliyah Selburg, Graceyn Selburg and Charity Selburg; brothers, Leroy Belgarde Sr., Curtis Belgarde, David (Peggy Belgarde and Ronald Belgarde; sisters, Betti Jean (Kenny Azure) and Doris (Verlin) Dubois
(Nero Funeral Home, Bottineau)
Condolences to the Belgarde family
From Vickie Metcalfe ('70):  Bottineau, ND
Gary and Friends,
I wish to extend  sincere sympathy to the family of Larry Belgarde.
I have known this family for many years, as his elder sisters and many younger brothers attended Dunseith Public School
Larry led a congregation in Dunseith for many years.
He  also wrote a spiritual column for  a  local newspaper.
The last time I saw  Larry  at WalMart , I could tell he wasn't feeling well, but he never complained,   always maintaining a  cheerful pleasant personality.
Larry's family are also deeply spiritual.
HIs daughters  provided care for my mother when she was a resident at Bottineau Good Samaritan Home.
Mom felt they were very  hard workers with quiet,  polite demeanor.
They were always most kind, respectful  and caring  personalities to everyone.
Vickie Metcalfe
Posted by Neola Kofoid Garbe:  Bottineau & Minot, ND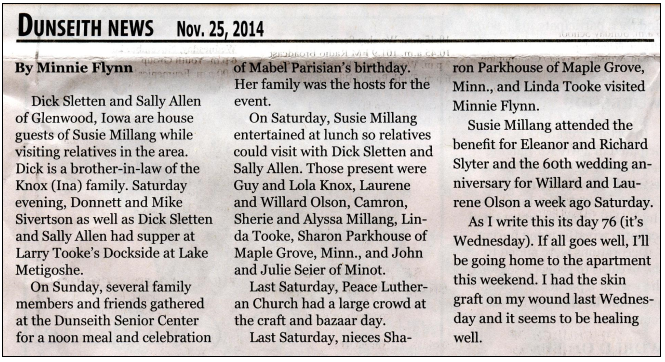 ====================================
Blog (205) posted on August 26, 2008
Folks,
After a bit of a break, I have gotten back into putting a few more class lists together.  I am working with the 40's classes.  For your interest, I have listed below all those that I have made contact with in the past week or so.  Even though I did not call Marie or Mildred Nelson Parrill, I have also listed them for your info.  LeaRae, Mildred's daughter keeps me posted with them.  I have had some very interesting conversations with all these folks. I have learned of the close relationships that many of you are with a lot of these folks.  I was surprised.
Some of the 40's folks are a real challenge to locate or get info on.  In a few days I will be sending out a list of those that I am having problems finding asking for your help in locating.
Gary

Class of 45
| | | | | | |
| --- | --- | --- | --- | --- | --- |
| Christianson Baskett | Viola | 15643 Sunny Cove Dr SE | Olalla, WA 98359 | (253) 857-2521 | No email address |
| Watkins Hoover | Lenore | 232 11th Ave SE | Minot, ND 58701 | (701) 838-2708 | No email address |

Class of 44
| | | | | | |
| --- | --- | --- | --- | --- | --- |
| Boardman | Robert | 33856 State Highway 87 | Frazee, MN 56544-8500 | (218) 334-2401 | |
| Hagen | Oscar | 116 23rd St S | La Crosse, WI 54601 | 608) 784-7205 | |
| | | | | | |
| --- | --- | --- | --- | --- | --- |
| Landsverk | Howard | 16224 70TH PL W | EDMONDS, WA  98026   | (425) 776-5566 | |
| Nelson Kriz | Evelyn | 6549 Depew Ct | Arvado, CO 80003 | (303) 421-0716 | No email address |
| Pigeon | Yodola | PO Box 128 | Dunseith, ND 58329 | (701) 244-5638 | Colette |
Class of 43
| | | | | | |
| --- | --- | --- | --- | --- | --- |
| Halvorson Kittleson | Doris | 19541 GLEN VIEW CT | OREGON CITY, OR  97045 | (503) 656-8501 | No Email address |
| Nelson Parrill | Marie | 506 Jay St | Bottineau, ND 58318 | (701) 228-2504 | No Email address |
| Nelson Parrill | Mildred | 823 Railroad Ave, Apt 29 | Bottineau, ND 58318 | (701) 228-3506 | (Daughter LeaRae) |
| | | | | | |
| --- | --- | --- | --- | --- | --- |
| Pigeon Horsman | Louise | 14164 73rd Pl NE, Apt D103 | Bothell, WA 98011 | (425) 821-3038 | |
Message from Sybil Johnson: 
In just the short time I have been included with this great site, I surely enjoy reading each and every email. Im sure Augie would also enjoy them, if maybe Dick can get ahold of him and get his email address, for I dont have it–of course. Update on our daughter, Beckie. I talked to her about 2 hrs yesterday and she is doing great. Expecting to go back to work on Sept. 17th. Thanks again for making me a part of this site, Gary.
Sybil Johnson
All of today's pictures have been provided by Noela Kofoid Garbe: 
Mike & Sandra, this is a beautiful picture of you guys with your family. I don't believe I have ever met your children. They are great looking kids. Can you idientify them for us?
For those of us from up in the hills, this picture brings back a lot memories with youhaving been our bus driver, Mike.  I think you drove the first year that we were redistricted to Dunsieth. I was a Freshman. I remember Sandra's dad, Arnold, filling in several times for you driving the bus too.
Sandra, we could see your house, 4 miles acorss country, from our house. You guys lived on the very SW corner of the Peace Garden.
I just got a message from Neola and she said she has tracked you guys down in Bottineau this week end.She wants to give this picture and several others to you too.  Gary
                         Mike & Sandra (Zeiler 62) Vandal Family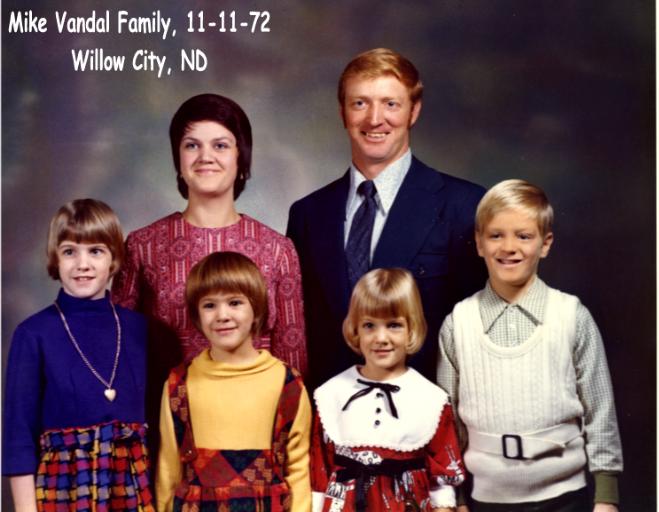 Toni Parisien has identified those in the Azure Family Portrait:
The Azure Family Portrait:
Back Row – Toni (Azure) Parisien, Denise (Azure) Marcellais, Agnes (Jerome) Azure, Wade (LaBoy) Davis – deceased, Marla Davis, Francis (Lito) Davis – deceased, Becky (Davis) Bliss, Terry (Tooners) Plumage, Keifer Plumage, Joseph (Chick) Plumage, Joey Plumage, Lyle Davis,

Middle Row – Peter J. (Butch) Azure – father of Toni and Denise, married to Agnes Jerome, Caroline (Azure) Davis – deceased mother of Wade, Marla and Becky, married to Francis Davis, Agnes (Decoteau) Azure, Fabian Azure, Agnes (Dolly Azure) Plumage – mother of Terry, Keifer, Joey and Kevin, married to Joseph Plumage, Francis (Sammy) Azure, Lila (Davis) Gourneau,
Bottom Row – Travis Azure – son of Denise, Ron Davis – son of Marla, Levi Davis – son of Becky, Kevin Plumage – son of Dolly, Sam Azure, Jr. – son of Francis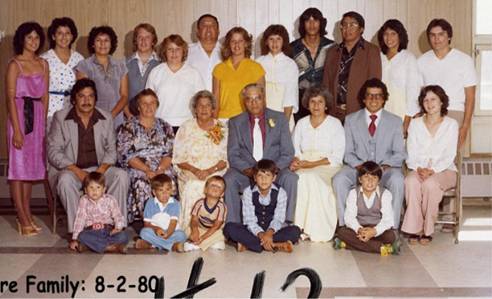 Hi Gary,
Debbie Champagne has identified this lady.  I had saved her picture as "Pottery Lady".  Beautiful lady/pottery.
This lady is Louise Crosby originally from Dunseith.  She now lives in the Retirement Home in Belcourt.
Neola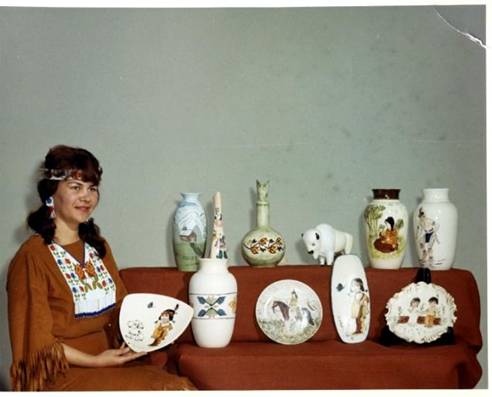 Diane Larson Sjol(70) walking 60 miles in Breast Cancer Walk.  Please help:
Everyone,
I am going to use this forum because it reaches so many people and
because this request is for a good cause.  On September 19-21 I will
be participating in the Susan G. Komen Breast Cancer 3 Day in the Twin
Cities.  I will walk 60 miles over the course of three days with
thousands of other men and women.  The net proceeds will support
breast cancer research, education, screening adn treatment through
Susan G. Komen for the Cure and the National Philanthropic Trust
Breast Cancer fund.
In order to participate I have to raise a minimum of $2200, so I am
aksing for your help.  Would you please consider a donation?  Whatever
you can spare would be helpful.  I am employed as faculty at MSU
Bottineau and will wear a college shirt with the names of those I am
walking for written on.  Eveyone who donates can give me a name to put
on the shirt.  I will wear the shirt for the duration of the walk.  If
you would like to donate, you can go to http://www.the 3day.org/ and
click on "Donate Now" and search for my personal fundraising page.
Just put my name Diane Sjol and the state in which I live ..North
Dakota….my name will pop up and directions will follow.  Just a
note, according to the foundation, more than 200,000 American will be
diagnosed with breast cancer this year and nearly 40,000 will die from
it.  That is why I am walking so far…to do something about it…so,
I hope you won't feel offended about me using this forum for this
cause.  Thank you in advance for your generosity.  If you do decide to
donate, you can email me your name and the name of the person you want
me to walk for at diane.sjol@msub.nodak.edu.  Thank you in advance for
your generosity and for supporting me in my fundraising efforts.
Diane Larson Sjol (70)
Do any of you recognize any of the folks in these three photo's?