San Haven Picture
I am really cramped for time this morning and don't have the time to work with that picture.  I will post an updated picture with the replies I got with the next posting.
Raymond Cote; Bud and Mary Knutson
Reply from Keith Pladson ('66):  Roanoke Rapids, NC
Gary, hope all is well in the PI and that Bernadette is in good spirits.
Sorry to hear about Raymond Cote's passing.  I worked for him the summer following my graduation in 1966.  For me, it was a step up to bigger farm equipment than the equipment I had run for Carl Melgaard the previous summer.  Most of the land Raymond farmed was flat, so was quite a change from the hills Carl farmed.  Reading of his death and his obituary brings back many memories of that summer.  Interestingly, I was not the only Dunseith alumni to work for Raymond that summer.  Randy Flynn also worked for him on an as needed basis.  I was delighted to see Randy on the Dunseith Alaskan cruise a few years ago.  I hadn't seen Randy since he and I worked together for Raymond that summer.
And a quick comment to the reposted input from my cousin Mary Knutson.  The year I stayed with you and Bud, Mary, was the winter of 1966/67 – same year I graduated.  After working for Raymond Cote that summer and being laid off after the end of harvest, I was looking for a place to lay my head.  So, a little late Mary, but thanks to you and Bud for giving me that place.  Though I fed cattle and pigs in exchange for room and board, I always felt I got the better end of that deal.
Finally, yes, my grandfather Ulysses was killed on the little prairie by an airplane propeller – though he didn't own the plane.  As I recall the story he was trying to help start the plane by spinning the prop.  Of course that happened several years before I was born, so details may be a little fuzzy.
Thanks, Gary.
Keith Pladson (66)
Posted by Neola Kofoid Garbe:  Bottineau & Minot, ND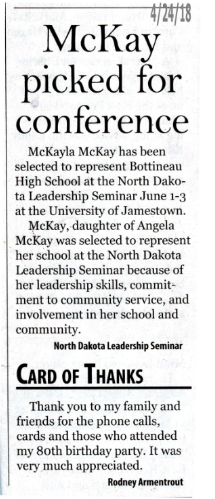 ==============================================
Blog (700) posted on January 30, 2010
Posted on January 30, 2010
Philippine & SE Asian Vacation tours:
The Philippine and SE Asian Vacation tours that Bernadette and I put together can be customize to your liking. Tour packages to countries and cities in SE Asia, from the Philippines, are very reasonably priced. With us living here, we feel this is an opportunity we can offer those of you wishing to visit this part of the world at a very reduced rate, customized to your liking. We are not collecting any commissions or fees from any one doing this. This is something we have chosen to do with absolutely no profits or kick backs. Please click on the Dunseith Alumni link below to see the latest updated info for these tour packages. We'd love your company too. Gary
http://garystokes.net/PhilippinesSEAsiaVacation2.aspx
Dan Morgan:
Reply from Bob Lykins (Teacher): Hutto, TX
Gary,
Sorry to learn that Dan Morgan is not well. He and I began teaching in Dunseith at about the same time (1962) and I recall him being a rather quiet, thoughtful individual with a winning smile. He had a tendency to be a calming influence in any storm. I wish he and his family the very best.
Bob Lykins
Dan Morgan:
Reply from Toni Morinville Gredesky (68): Farimount, ND
My prayers are with Dan Morgan and his family as they go through this challenging battle. I consider myself so fortunate to have had Dan for a teacher. He and Dennis Espe were two of the best teachers I had. They were such positive influences during our junior high years. My friends and I spent a lot of time in their little office correcting papers for them. I have evoked their names so many times over the years in my high school English classroom. I have often told the story of the day President Kennedy was assassinated. We were in the big assembly room when the announcement came over the intercom that the President had been shot. Somehow two or three of us girls asked Mr. Morgan and Mr. Espe if we could sit in their office and listen to the radio. We were all sitting in their listening when we heard that the President had died.
These two men were both master teachers and knew what it meant to use a "teachable moment." They had high expectations for our achievement and treated us as whole human beings. I know that they were very influential in my decision to become a teacher myself.
Toni Morinville Gredesky
Randy Davis (Deceased)
Reply form Denise Lajimodiere: Moorhead, MN.
For Mark Schimetz,
Randy Davis is my first cousin. His mother was Theresa Lajimodiere Davis, my father Leo's sister. Randy's brother is Kenny Davis, his Belcourt gas station/off sale is called LaDot's, after a nickname he acquired in high school.
Denise Lajimodiere
Reply from Larry Liere(55): Mesa, AZ & Devils Lake, ND
Thanks Janice I had the same question a week ago (blog 1-23-10). I had a gut feeling that some of my 2nd. grade class would be on the 1955 footbal team. I was worried that the class of 55 had a beer bust and they all became ineligible to play sports. I hope some boys from the class of 55 will reply to this and send in a picture of the 1955 team! Larry Liere
Reply from Janice Leonard Workman (55): Auburn, WA
Gary, I think that football picture is from 1956, instead of 1955. Of the boys that were in the class of 1955,Barry Shelver, Gordon Neameyer, Wally Hiatt, Marlin Williams, Dennis Brennan somebody must have played football and surely Gary Woodford would have been team manager????? Janice Leonard Workman
Reply from Dick Johnson (68): Dunseith, ND.
Gary and Friends,
Thanks to Mona for the info on the Dunseith Independent Team. Maybe
the name was just 'Dunseith' on the warm up jackets and the red color is
what confused me, knowing that Dunseith was always blue and white.
Thanks for the reply. I did watch Chuck Johnson play independent
basketball in the old city hall. They usually played on Sunday
afternoons, if I remember right. Les Greener was before my time but I
heard lots about him from Dad. The 'Harlem Stars' came to Dunseith once
too and played in the city hall. Some of the players were originally
with the Harlem Globe Trotters and then joined up with knock off teams.
Some of the craziest basketball games were the ones the Dunseith
Businessmen played against the Boissevain Businessmen. The Canadians had
never played basketball before and would run with the ball and
hopelessly try to dribble—we were rolling on the floor laughing. The
laughing changed places though when the Dunseith guys had to put on
skates and play hockey in Bossevain! Those guys could skate circles
around the Dunseith guys and the Canadian folks nearly died laughing!
Dad took me up to one game and I felt sorry for our guys!
The Randy Davis that passed away is not the son of Joyce Poitra Davis
Fandrick. This Randy is from Belcourt and is the brother to Ken Davis.
Mark Schimetz was trying to remember Kenny's nickname—LaDot. He has
the c-store and lounge in Belcourt that is called 'LaDots'.
Thanks to Mary Eurich Knutson for the remarkable pictures! I was
thinking about an earlier one that had Bergan, Pritchard, and very
young Bob Pritchard by a log building. Dale Pritchard said it could be a
cabin or smokehouse. My grandpa had a similar short log building with a
dirt covered roof and kept ice blocks from the lake, packed in sawdust
from his old mill. The building stayed cold enough to keep ice for the
ice box nearly until the next fall. I have his old ice saw and a couple
large sets of his ice tongs. Everything was hard work for the folks in
those days. Thanks again Mary, and Gary!
Dick
Dan Morin House fire:
From Vickie Metcalfe (68): Bottineau, ND.
Gary and Friends,
The following information came in an e-mail this morning provided by a source at Benchmark who works with Dan Morin.
"Dan Morin and his family lost their home in a fire Tuesday night. Dan and Punky and their granddaughter were living with his mother-in-law. They will be able to salvage very little from the remains of the home and have been provided temporary living quarters at the Casino and will soon be moving to a two bedroom home. Their most immediate need is clothing. The family is in need of all things for the home. Furnishings including beds, kitchen items – tableware, cooking utensils, etc."
Dan works at Benchmark in Dunseith. His wife is "Punky" Parisien the daughter of Tootsie Delorme. Toosie, although past retirement age continues to work, I think with head start. Toosie's mother was the first Mrs. Ralph Poitra, Toosie's uncle was Alcide Lajimodiere. Punky is also the sister of my classmate, Carole Ann Parisien Lavallie (widow of Andrew Lavalle).
I am so relieved and thankful to hear this family did not suffer any burn injuries, despite the devastation of a home fire in the sub zero North Dakota weather this past week. Vickie Metcalfe
If anyone would like to contribute to this family please contact Dan's supervisor
John Hardy
Logistics Supervisor
19 2nd ST SE
Dunseith, ND 58329
701 244 6878 (tel)
Great snow Pictures – Click on the link below:
From Ellen Graff Myrick (58): Grand Forks, ND.
These pictures show snow collected in southwestern N. Dakota. Even though it's not about your realtives can you post on the email.
http://www.slopeelectric.coop/About_Us/Storm_Photos/index.html.
Reply to personal message in reference to picture below
From Keith Pladson (66): Stafford, VA
Just a couple of comments on your email, Gary. First, the photo in question has to have been taken in 1937, 38 or possibly early 39 as Mom looks to have been around 15 or so. Since she was born in 1923, that would give us a year of 1938 – which is why I said in my earlier response that is was probably 1938. Thus, there is no way it could be Frank Stokes in the photo. Second, I don't recall Jim Cain being called Jimmy. And as far as tracking him down, that would lead you to his grave. Jim died a few years ago. He was married and he and his family lived in Western Tenn. Finally, I'm sure it was just a slip on your part, but in your first paragraph below, you say that Rebecca (Reba) was the daughter of "Frank" and Fanny. I assume you meant "William" and Fanny.
One further comment: I'm well aware of where Reba lived as we also later lived there. I believe that is where Mom and Dad lived when I was born and though I don't have any memory of the place, both my Brother, Floyd and my Sister, Florence do. And yes, Mom always referred to her Aunt as Aunt "Reba."
Keith
Keith, Rebecca (Reba) Stokes Rendahl was the daughter of William & Fanny Stokes. Yes, I remember well my folks referring to her as Reba too.
Folks, This is another one of the pictures that Mary Eruich Knutson sent. I held off a day posting this while we got the identities of the folks in the picture correctly identified. Between Mary, Keith Pladson, John Tangen and myself; I think we finely figured out the correct identities of those in the picture.
I remember well, as a kid, seeing Reba Stokes Rendahl's old house sitting on the county line, on the south side of road, below the Rendahl hill on Highway #43 also known as the Peace Garden Road. Common Sence would tell us that is how the Rendahl hill got it's name. I'm sure Rendahl church was named after this family too? Willaim Stokes, My great Grandfather, had 2 daughters, Reba Rendahl & Alice Thompson and one son Frank Stokes.
William Stokes was 91 years old when he died in 1946. He was in his mid 80's in this picture.
Standing L to R: William Stokes, Esther Thompson Tangen, Ulysses Thompson,Rebecca Stokes Rendahl, Lillian Thompson Cain, Ella Thompson Pladson & Lester Cain
Sitting in Wheel chair: Alice Stokes Thompson holding Jimmy Cain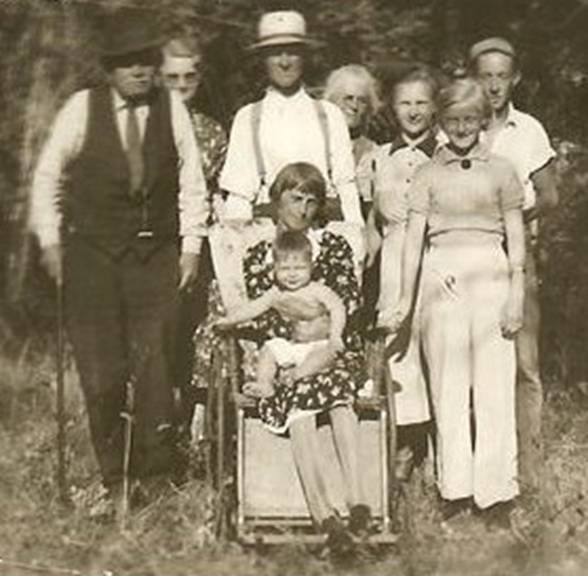 Bertha Kittleson's passing
Posted by Vickie Metcalfe (68): Bottineau, ND.
BERTHA KITTLESON, 86, Bottineau, died Thursday in a Minot nursing
home. Funeral Tuesday, 2 p.m., First Lutheran Church, Bottineau.
Prayer service Monday, 7 p.m., Nero Funeral Home, Bottineau.
Visitation Monday, 10 a.m. to 9 p.m., and Tuesday, 10 a.m. to noon,
in the funeral home.
Gary, This was posted in the Minot Daily today January 29, 2010.
Bertha is fondly remembered. As, a honest hard working classy
country lady, friend, excellent school cook, grandmother and great
grandmother to many, and former country school teacher in Rolette
and Bottineau County.
Vickie Metcalfe
Bertha's Obit is now posted on Nero's Web site too. I have pasted a copy below. Gary
Bertha Kittleson
(May 28, 1923 – January 28, 2010) 

Sign Guest Book | Send Private Condolences
Send Flowers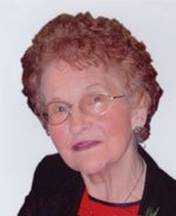 BERTHA IRENE KITTLESON Bertha Kittleson, age 86 of Bottineau, died Thursday at a Minot nursing home. Funeral services will be held on Tuesday at 2:00 P.M. in the First Lutheran Church in Bottineau. Burial will be in the Salem Cemetery of rural Bottineau. Visitation will be Monday beginning at 10:00 A.M. until 9:00 and Tuesday 9:00 until noon in the Nero Funeral Home in Bottineau. A prayer service will be held on Monday at 7:00 P.M. in the Funeral Home.
Bertha Irene Kittleson, a daughter of Ivar and Regina (Haugen) Peterson, was born on May 28, 1923 in her home in the Turtle Mountains north of Bottineau. She was reared and educated near her home. She was confirmed in the Salem Lutheran Church of rural Bottineau. Bertha attended Minot State and received her teaching degree. She then taught at the Happy Hill School in Homan Township for two years and then at the Strong School in Rolette County. On June 16, 1946 she was married to Milan Kittleson at Bottineau. She returned to Bottineau County and taught at Whittering #1 until 1950. Bertha remained home to raise her children and help on the farm until 1971 when she began working at the Bottineau Public school as a cook. She retired in 1977 and helped Milan on the farm. Milan passed away on June 20, 1999. In the fall of 2009 she moved to Minot where she has resided since.
She was a member of the First Lutheran Church in Bottineau. Bertha was also a member of a quilting club and was a Mission Aide member.
Bertha is survived by 5 daughters, Ann (Harold) Roseneau of Willow City, Connie (Charles) Tollefson of Surrey, Judy (John) Slater of Minot, Marla (Carl) Lee of Bottineau, and Penny (Edwin) Krumweide of Sarles; 4 sons, Donny (Darlene) Kittleson, Ted ( Kathy), Kittleson, Jamie (Kandis) Kittleson all of Bottineau and Terry ( Marilyn) Kittleson of Minot; a daughter-in-law, Lori Kittleson of Bottineau; 27 grandchildren; 37 great-grandchildren and 2 great-great-grandchildren;
She was preceded indeath by her parents, two sons Dennis and Larry; brothers, Pete Peterson and Oscar Peterson; a sister, Dorothy Peterson.
Arrangements are with the Nero Funeral Home of Bottineau. Friends may sigh the online register at www.nerofuineralhome.net
From Wendy Strietzel, Dorothy Eurich Strietzel's (75) Daughter: Minot, ND.
Gary,
I received this e-mail from a friend and thought you might like to share it with all of the North Dakotans you blog to every day.
Wendy
> > THIS IS A HOOT, FOR US THAT WERE BORN AND BRED IN
> > North Dakota
> >
> > Leave it to Jeff Foxworthyto talk about our beloved state!!
> > The funny part is……it's all true…every bit of it!!
> > Only in North Dakota !!
> > For those of you who do not know, Jeff
> > Foxworthy's in-laws live in Kief, North Dakota .
> >
> > According to Jeff Foxworthy:
> > If you're proud that your region makes the national news at least 96
> > times each year because it's the hottest or the coldest spot
> > in the nation,
> >
> > You might live in Fargo, North Dakota .
> >
> > If your dad's suntan stops at a line curving around
> > the middle of his forehead,
> >
> > You might live in Butte, North Dakota.
> >
> > If you have worn shorts and a parka at the same time,
> > You might live in Benedict, North Dakota.
> >
> > If your town has an equal number of bars and churches,
> >
> > You might live in Drake, North Dakota .
> >
> > If you have had a lengthy telephone conversation with
> > someone who dialed a wrong number,
> >
> > You might live in Sawyer, North Dakota .
> >
> > YOU KNOW YOU ARE A TRUE North DakotanWHEN
> >
> > 'Vacation' means going east or west on I -94for the weekend…
> >
> >
> > If you measure distance in hours,
> >
> > You might live anywhere in North Dakota .
> >
> > If you know several people who have hit a deer more than once,
> >
> > You might live in Bergan, North Dakota.
> >
> > If you often switch from 'Heat' to 'A/C' in the same day and back again,
> >
> > You might live in ,Bismarck, North Dakota .
> >
> > If you can drive 65 mph through 2 feet of snow
> > during a raging blizzard, without flinching,
> >
> > You might live in Minot, North Dakota .
> >
> > If you see people wearing camouflage at social events (including weddings),
> >
> > You might live in Velva, North Dakota
> > If you install security lights on your house and garage and leave both unlocked,
> >
> > You might live in Harvey, North Dakota.
> >
> > If you carry jumper cables in your car and your girlfriend knows how to use them,
> >
> > You might live in Grand Forks, North Dakota .
> >
> > If driving is better in the winter because the potholes are filled with snow,
> >
> > You might live in anywhere, North Dakota.
> >
> > If you know all 4 seasons: almost winter, winter, still winter and road construction,
> >
> > You might live in Washburn, North Dakota .
> >
> > If your idea of creative landscaping is a statue of a deer next to your blue spruce,
> >
> > You might live in Butte, North Dakota.
> >
> > If Going Down South" means South Dakota ,
> >
> > You might live in Steele, North Dakota .
> >
> > If a brat is something you eat,
> >
> > You might live in McClusky, North Dakoya .
> >
> > If your idea of going out to eat is a tail gate party every Friday,
> >
> > You might live in Garrison, North Dakota .
> >
> > If you have more miles on your snow blower than your car;
> >
> > You might live in Mandan, North Dakota.
> >
> > If you find Zero degrees degrees to be 'a little chilly',
> >
> > You might live in Williston, North Dakota .
> >
> > *If you actually understand these jokes, and you forward them to
> > all your North Dakota friends — you might just live inNorth Dakota