No blog yesterday:
For the record, I did not get a blog out yesterday. I had to take my car in to have the air conditioner fixed, a must have in this country.
Viola Gillis Grinnell's Obituary
Posted by Neola Kofoid Garbe: Bottineau & Minot, ND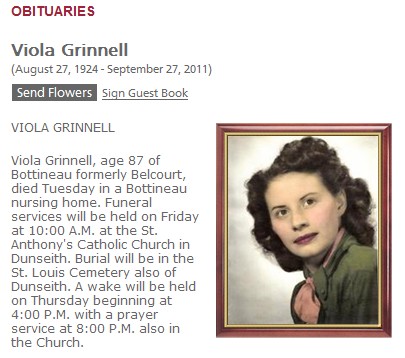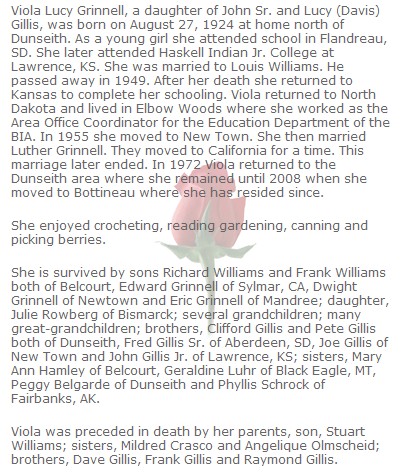 Our condolences are with Viola's family with her passing. I didn't know her, but being a sister of Pete Gillis', I know she was a good person. Gary
From Dick Johnson (68): Dunseith, ND
Gary and Friends,

I was trying to find a nice way to say that Debbie (75) and Diane
(75) sure don't look to be 75. The story that this reminded me of was
when Mrs. Sunderland fell down the stairs and was hurt quite badly years
ago. The newspaper article said, 'Mrs. Florence Sunderland 56 of
Dunseith falls and is hospitalized'. Jack Hosmer ,being the friend that
he was, sent her a get well card. On the front of the card it said
'Florence Sunderland 56' and he signed it 'Jack Hosmer 52'. Just
another memory from old Dunseith.

Dick
Posted by Neola Kofoid Garbe: Bottineau & Minot, ND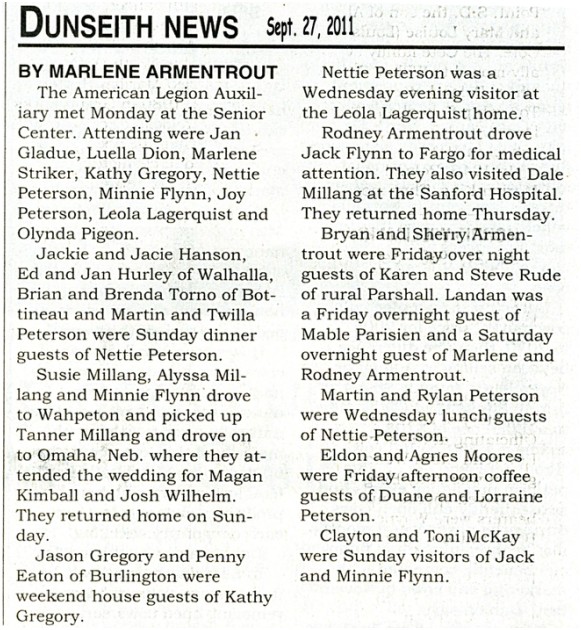 Stokes Yard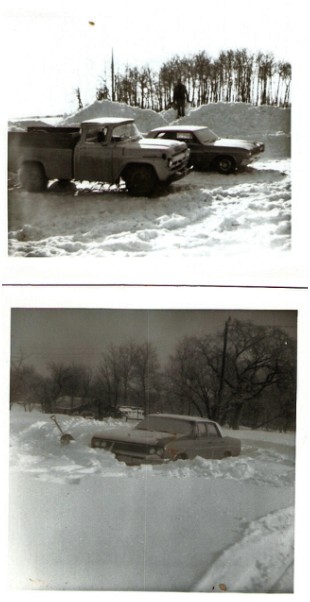 Posted by Larry Hackman (66): Bismarck, ND.
This is a good one.

5 Year Old's First Job
Here's a truly heartwarming story about the bond formed between a little
5-year-old girl and some construction workers that will make you believe
that we all can make a difference when we give a child the gift of our time.
The young family's 5-year-old daughter naturally took an interest in all the activity going on next door and spent much of each day observing the workers.
Eventually the construction crew, all of them "gems-in-the rough," more or less, adopted her as a kind of project mascot. They chatted with her, let her sit with them while they had coffee and lunch breaks, and gave her little jobs to do here and there to make her feel important.
At the end of the first week, they even presented her with a pay envelope containing ten dollars.
The little girl took this home to her mother who suggested that she take her ten dollars "pay" she'd received to the bank the next day to start a savings account.
When the girl and her mom got to the bank, the teller was equally impressed and asked the little girl how she had come by her very own pay check at such a young age.. The little girl proudly replied, "I worked last week with a real construction crew building the new house next door to us."
"Oh my goodness gracious," said the teller, "and will you be working on the house again this week, too?"
The little girl replied, "I will, if those assholes at Lowe's ever deliver the damn sheet rock…"
Kind of brings a tear to the eye – doesn't it?