Bernadette Stokes.
This picture was take October 8th, about a month and half ago, with our neighbor friend, Lilli Wilmot.
Bernadette has really gone down hill since this was taken. Yesterday she weighed 100 LBS. In this picture her weight was 117 LBS. Her normal ideal weight was about 150 to 160 LBS. There are days she refuses to eat or drink. Other days her intake is very little.
She has the best care possible with three full time caregivers 24/7. Feel so sorry for her, but we are doing the best we can to keep her comfortable. So sad seeing her helplessly in this condition. Absolutely Zero quality of life.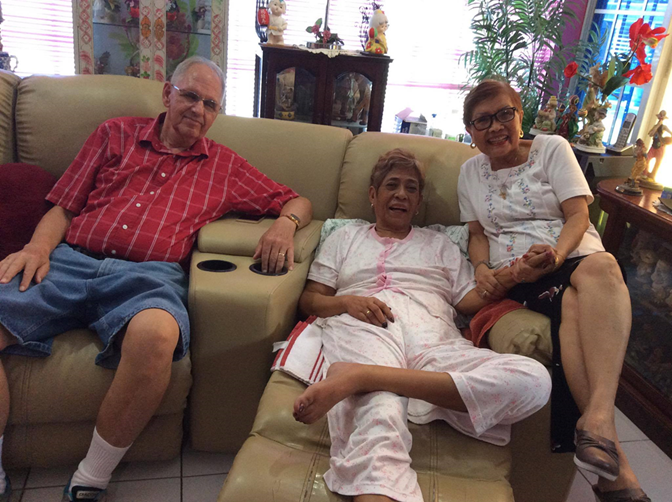 Veterans Day Remembrance
From Vickie Metcalfe ('70): Bottineau, Nd
November 10, 2020
Gary and Dunseith Alumni,
Tomorrow is Veterans Day.
I find it fitting to Thank You Gary , all of  our Dunseith friends,
classmates and everyone who served.  
I especially liked the title, "the Comfort of Strangers…."
THANK YOU.
Sincerely,
Vickie L. Metcalfe
Memories
Form Ginger LaRocque Poitra ('65): to Belcourt, ND
11/4/2020
Hi Gary,
Today would've been my Dad Joseph LaRocque's birthday October 27th, 103 he would be. The Angels took him away February 27th, 2005.
My Dad was such a nice man, he was liked by most, he made many friends during his time on earth. I know that Bill Evans was his friend for life, they passed away very close together.
My Dad was a good worker, he worked for Gottbreht's, also on the railroad for 33 years, he of course worked other jobs like draying.
While working on the railroad ( which was nothing like today's work) he worked hard he and of course others on the crew, they used picks, layed ties, rails, switches were put in by hand and set by hand, fixed when needed. He worked in the winters, there would be derailments in the dead of winter very, very cold he didn't work  alone, he worked with the crew, he would come home with his face froze somewhat, as cold as they could get temperature well below zero with the wind blowing. He shoveled snow to clear the rails helped getting train on track, I don't know all aspects of what he and the crew actually did. Dad never complained, not once did I hear him do that.
Dad worked with Louis Shemitz who was the cook. They would go for a week at a time when to far out Louis had a cook car as they called it where all meals were prepared and served by Louis.
I remember Dad while working on the railroad, would be up at 4 in the morning, I wondered why so early? To just drive to Rugby, they were detailed to different places for a week or more at a time driving back and forth daily. I finally asked him. He started, "Well I go pick up Isadore Gouneau, Dan LaFountain, Isadore ?, and 1 or 2 others,"  while he told me he would point up north of Dunseith, turning his body as he told the story to come back to Dunseith to finally get on his way to Rugby.
At home Dad worked hard in the winter, we would get a whole lot of snow, he would go out and shovel snow which would get higher then him. He would have a large scoop shovel, he would load it high with heavy snow,  carrying it slowly across the driveway always walking up straight. That's when I knew he was a very strong man. He sure wasn't scared of hard work.
He was able to do woodwork, he made kitchen cabinets for our kitchen and his mother's as well. For us he made cabinets to store whatever mom wanted to store in them, it was large. He refinished furniture.
Dad's carpentry work was an addition onto our small house, it included a very large kitchen ( with the cabinets I spoke of) and an inside bathroom at last! Running water was so great with washing dishes as well.
The task of adding inside water was a large back breaking job, what happened there was the neighborhood kids and my siblings helped in hauling pails of dirt out of the cellar, a lot of dirt! This all happened in 1962, or 1963. I got out of most of that work, I think it was planned that way, I went to stay with my sister Shirley for one summer, in Sioux Falls, South Dakota. Guess which sinking ! I was never let to lift heavy,  l couldn't haul water from the well the water to wash clothes was hauled in a tub, HEAVY ! I think Dad was a huge decision maker there.
Before the water works was installed in the house the sink had been installed in the kitchen, in order to utilize,  a large pail was put in under the sink to let water drain into it after dishes was completed. Dad's idea.  One evening Sister Shirley decided to wash her hair in the sink. She got busy washing her hair, poured water in sink and water poured out onto the floor, of course  as you must've guessed! The pail hadn't been replaced under the sink. Dad told her she would have to go wash her hair at the creek, Shirley believed him and began crying and carrying on. Dad laughed and laughed, just one of his jokes that he really didn't know she would do.
I do have a lot to write about my Dad but there isn't time right now, I will write again.
As you can see I was late finishing to where I wrote. I started on the 27th of October 2020.
I love you Dad and I miss you with your sense of humor.
Ginger LaRocque Poitra class of 1965