Harvey Hiatt's Obituary
Provided by Tanya Hiatt: Flagstaff AZ.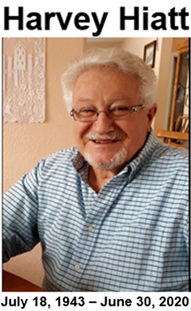 Harvey A. Hiatt, 76 passed away peacefully on June 30, 2020 in his Flagstaff, Arizona home with his wife and daughter by his side after a long illness.
Harvey was born on July 18, 1943 in Bottineau, North Dakota to Willie and Maxine Hiatt. He attended Bottineau High School and graduated from NDSU, Bottineau School of Forestry with a degree in Science of Forestry.  In 1964 he married Teressa Carlson of Bottineau and had two children.  He worked 27 years working in research with USDA Forest Service, Rocky Mountain Research Station. He enjoyed his work and was presented numerous awards throughout his career for loyal and dedicated service, ingenuity, creativity & engineering skills.
Harvey met and married Tanya Embury-Rench and shared the last 35 years of his life together. They had a blended family and raised 3 children together.  Member of Living Christ Lutheran Church for many years.  He loved hunting, country music, dancing, reading, travel and enjoyed family, friends and food. Everyone knew him by his smile.
Harvey is survived by his wife, Tanya, sons, Brad (Dana), Jeffery Rench (Katrina), (Jay) Jalynd (Desiree), daughter, Sheri Hiatt (Susan),  10 grandchildren, sister, Barbra Gross (Joe), brothers, Laurence (Debi) and Douglas. He is preceded in death by his parents and a daughter Jeanette Rench.
Harvey will be greatly missed. A memorial service will be planned at a later date. In lieu of flowers, donations can be made to Hospice Compassus in Flagstaff.
Ackworth Cemetery


Condolences to the Hiatt Family
From Brad Salmonson (DHS '61 Valedictorian): s Idaho Falls, ID.
Gary,
Please pass my condolences to the Harvey Hiatt family. Harvey and I started grade school together at Ackworth school and were best buddies during the six years that Harvey went to school there. We later connected during college at the School of Forestry and occasional visits back to North Dakota. I think about him a lot, he will be missed.
Brad Salmonson
Kjersten Larson Family postings
Reply from Ruth Tang:  Thank you. I appreciate you putting that together .
Ruth Tang
Kjersten Larson Family postings Reply from Cheryl Larson Dakin ('71):  Bedford, TX. Hi Gary
I was just looking at the originals of these pictures last night. My dad (Mensvil Norman Larson, Jr) and O. Gordon Tang are cousins. Dad often talked about his visits to his Aunt Hilma in Wisconsin. I am trying to sort out the Larson and John Anderson pictures and family histories I have so I can put them in some kind of order for my kids and for my sisters. Having no experience with this and not a whole lot of time yet to devote to it, it's a long process. I'm giving myself until next summer so I have something to present at the family reunion. I am praying Covid is not going to be an issue then.  We are fine here in Texas but pretty much hunkered down and wearing masks when we do go anywhere. Our church opened up for 3 weeks and then closed again 2 weeks ago so we are back to online worship services. I am so tired of all these Covid restrictions as I am sure everyone else is too. I hope everyone is well and hanging in there.
Cheryl Larson Dakin
Kjersten Larson Family postings Reply from Doreen Larson Moran (BHS '61): b Spokane, WA.
Gary – the date for the birthday photo would be July 1910 when Kjersten was 90.  She lived five more years, until 1915 when she was almost 95.  The Lake Metigoshe Christian Center is where she filed her homestead claim and lived in her own little house from 1890-1915.  Yes, that is 25 years – she filed when she was 70 years old.  To list all the descendants of Kjersten would be very long indeed.  Martin, Lars and Hans Peder had very large families that were in and around the Hills.  Adrian had 13 children but all but Arthur A went West.  Some changed their last names from Larson to the land they left in Norway.
I am pleased to see these pictures all together.  Ruth Tang, I knew your grandmother Hilma and mother-in-law and father-in-law quite well, but never had the pleasure of meeting you.  Hilma's brother Leo, was my grandfather.  I will email you later when I am back home in WA after being in ND for the past month – just enjoying life. Doreen Larson Moran
Year is 1910


 Dennis J Parisien ('65) Obituary
Posted by Neola Kofoid Garbe:  Minot, ND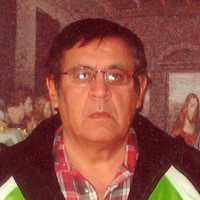 Dennis J Parisien was born on January 23, 1947 in Belcourt to Beatrice Parisien Vivier.  He was raised and educated in Dunseith.  He was blessed with many fond memories of growing up as a kid.  On May 16, 1968, Dennis enlisted in the US and received his Honorable Discharge on April 2, 1970.  He received numerous medals and certificates and was very proud of his service.  Following his discharge, he worked for the BIA Road Department and also as a truck drive and carpenter for the tribe.  Dennis graduated from the Police Academy on September 9, 1986 and worked as a police officer for the City of Dunseith for several years before returning to the road department. Following his retirement, Dennis spent the majority of his time having fun and being the great and loving uncle/Godfather to Jacy, Hunter and their children, Mavrick and Shooter.
He had the most loving and caring heart and enjoyed life.  He also enjoyed taking care of his mother.  He enjoyed spending time with family and friends, visiting for hours.  He had a great sense of humor and would tease and joke around with everyone.  He had a nickname for everyone.  Dennis was a good person with a big heart.  He showed a lot of love and compassion to those dear to him.  Dennis was also an avid outdoorsman.  He deeply enjoyed hunting and ice fishing.  He loved sports and was a great softball player and bowler.  He was an outdoor enthusiast and enjoyed driving around.  The holidays that Spook enjoyed the most were the 4th of July and Christmas.
Dennis passed away on Friday, July, 3, 2020 at a Minot hospital with his brothers Jason and Randy Vivier and nieces Hunter and Jason by his side.
He is survived by his mother, Beatrice Parisien Vivier, brothers and sisters, Randy, Jason, Andrew, Gary, Carol and Cheryl all of Dunseith and Logan, Sheldon, Eli, Vicky and Charmaine all of Belcourt.
He was preceded in death by his special godchild, Weston; brothers Tony, Jerry and Carey and sisters, Sharon and Connie.
Arrangements were with Nero Funeral Home in Bottineau.