Reply from Claudette McLeod (80): Dunseith, ND
Great story about Donald Egbert, You have a great way of bringing out good things about everyone you share stories about. However I must include that I visit with Donald every time I see him, he was a great friend to my deceased father (Leonard McLeod) and Donald has stories that he shares all the time. He has the mind of an elephant he remembers everything, as well as everyone! He truly is a great person.
From: Jennifer Bergan
Phone: E-mail: Message:


Hi I was wondering what kind of info you have for the Bergan family in Dunseith?

Jenn

 
Folks, I have added Jennifer to our distribution. Jennifer is a granddaughter of Clayton Bergan. Her parents are Kenneth (Deceased) and Julie Aasness Bergan. Julie's mother is Audrey Hanson Aitchinson. Audrey is my first cousin.

 

Jennifer, It is a pleasure adding you to our distribution list. I know you have been doing some genealogy on the Bergan family. Please share any thing that you have. Gary
From Allen Richard (65):
Midland, MI
I scanned a few pictures my folks had. Some of the "Frenchies" might find them interesting

I won't put them all in one letter.
Top: The Pigeon family. This was in the early 1950's. Front Louise Horsman; Grandma Hortence (Robert); my mother Emeline.
Back: Ydola, Theodore (Ted), Ubald (Jack) and Romulus (Bae)
Below: Pictures of "Pigeon Store" and the farm taken from the pasture. These pictures would be from the late 1940's
Allen, These are great! Thanks for sharing. With my first glimpse of this at this picture, I thought that was you in the upper left. You are a mirror image of your uncle Ydola. Gary
Back: Ydola, Theodore (Ted), Ubald (Jack) and Romulus (Bae)
Front: Louise Horsman; Grandma Hortence (Robert); Emeline Richard.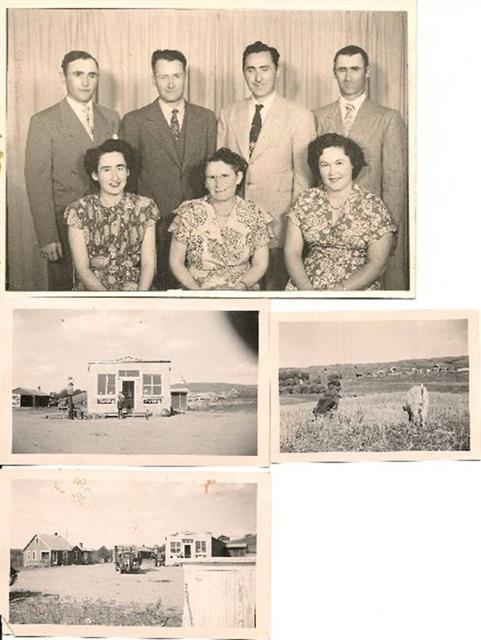 Arla Berg's Husband, Tony Marteliano's Obituary:
Marvin Olson update:
From Neola Kofoid Garbe: Bottineau & Minot, ND.
Hi Gary,
I'm reading your newsletter. I decided I'd make a few notes as I'm reading.
Marvin Olson now lives (at least for now) at Good Sam. His sister-in-law, Terry's wife, works there. She was the former Carol Pugh, daughter of Al Pugh who owned a grocery store in Bottineau for many years.
As the records you enclosed state, Arla Berg Marteliano has passed away. Tony passed away a couple of years ago, too. I'm including Tony's obituary. Use it if you want, but it's not necessary.

Anthony "Tony" D. Marteliano, 90 of Port Charlotte, FL passed away on Monday, February 4, 2008. Anthony was born on April 21, 1917 in New York City, New York the son of Charles and Sadie (Salvaggio) Marteliano. After he served in the US Navy he worked for 26 years as a boiler mechanic at the utility company. After he retired he moved to Port Charlotte in 1979 from Downer Grove, IL and was a member of the Elks Lodge 2153, the American Legion Post 110, the Italian American Club, the Sons of Italy and the Illinois Club.
Anthony was predeceased by his wife Arla. He is survived by his Sisters Mary and Santa Marteliano who live in New York, and many friends.
Services for Anthony Marteliano will be held on Thursday, February 7, 2008 at 11:30 AM with a visitation prior to the service from 10:30 to 11:30 AM at the Kays-Ponger Funeral Home, Port Charlotte Chapel. Burial will follow at the Royal Palm Cemetery.

 

Neola's comment: Tony/Arla lived in Chicago for many years. I'm assuming they moved to Florida when they retired. From entries made in Tony's guestbook, Tony/Arla also lived in New York City/Downers Grove, Illinois.
I'm also sending Tony's obituary as an attachment–genealogists who receive your newsletters MIGHT be interested in Tony's obituary.
Neola
Bernadette having a Manicure/Pedicure.
We were invited out to a birthday party late yesterday afternoon. Strapped for time having her nails done, Bernadette solicited the assistance of Gaga & Tata, our helpers, to remove the old polish. The gal sitting on the stool is a local manicurist that comes to the house. Her fees, including the polish, are 50 cents per Limb. Gary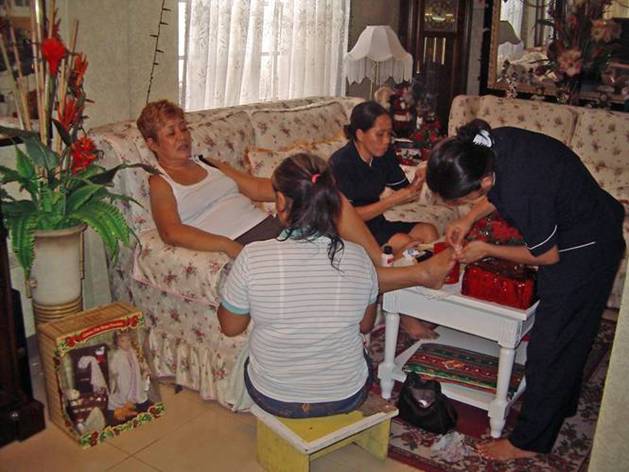 Arthur Foss Obituary:
From Neola Kofoid Garbe: neolag@min.midco.net Bottineau & Minot, ND.
This is old; I wanted to send it before I throw the paper. I might have sent it before.
Neola
Arthur Foss
(February 7, 1921 – October 9, 2009)
Arthur Foss, 88 a life long resident of ruralRolette,NDdied at his home on Friday, October 9, 2009.
Funeral Services for Art will be held on Wednesday, October 14, 2009 at 11:00 a.m. atValleLutheranChurch, Rolette. Rev. John Hesford will officiate and burial will be in theWillowCreekCemetery, rural Overly, ND.
Visitation will be held at Valle Lutheran Church on Tuesday from 5:00 p.m. until 8:30 p.m. with a Prayer Service at 7:30 p.m. Visitation on Wednesday will be at the church one hour prior to the funeral service.
Serving as Casket Bearers for Art will be his grandsons, Jarrett Foss, Nick Foss and Joshua Foss and nephews, Gary Foss, Rodney Foss and David Armstrong. Music will be provided by Robert Gilje, soloist and Lavonne Ivey, organist.
Arthur Foss was born on February 7, 1921 inKohlmeierTownship,Rolette County,North Dakotathe son of Christ and Guri (Haugen) Foss. He was reared and educated inKohlmeierTownshipand attendedClevelandSchool, rural Overly.
Art was united in marriage to Lenore Gable on May 31, 1946. They made rural Rolette their home, where they lived, farmed and ranched and raised their family through the years. Art was a baptized and confirmed member ofWillowCreekLutheranChurchin Overly and later a member ofValleLutheranChurch, Rolette.
Although Art never officially retired from farming, when he had more free time he enjoyed fishing, playing cards, Minnesota Twins baseball and bingo. In fact he was able to enjoy many of these pastimes all at one time. Art never missed a chance to visit with friends and family over a cup of coffee at the house or in town. He always enjoyed a good conversation about most any topic, as he kept up with what was happening in local, regional and national news.
Art's legacy to everyone that knew him was his love and devotion as a husband, father, grandfather and his kindness and honesty as a neighbor and friend. He was always so supportive and took an active interest in everything that his children and grandchildren were involved in; sports, music, their work and their hobbies. May he now rest in God's everlasting peace.
Art is survived by his loving wife of 63 years, Lenore; Five Sons: Bruce and Cheryl~Paul and Holly all of Rolette~Duane and Carol of Rolla~Glen and Denise and Danny and Wanda also all of Rolette. Grandchildren: Jarrett Foss, Melodie (Matt) Slocomb, Joshua Foss, Nick (Sarah) Foss; Step Grandchildren: Brock (Angie) Kavlie and Jeremy McKeown; Great Grandchildren: Adam Gustafson and Rhiannon Foss; Step Great Grandchildren: Lexi, Brooklyn and Zoe Kavlie; Sister: Mabel Armstrong of Rolette; Sisters-In-Law: Edna Foss ofRugby~Jeannine Westby of Cando~Coleen Sivertson of Bottineau. Numerous nieces, nephews and their families also survive.
Art was preceded in death by his parents; infant daughter, Brenda; sister, Marie Clark and brothers, Olaus, Oliver, Melvin, Grant and Alfred Foss.