Reply to Peggy Peltier's picture posted yesterday, from Judy Allery Azure (65):
Gary,
Peggy is not Gailord Peltier's sister, she is a sister Linda Gunville. She is married to Frank Gillis, Pete's nephew.
Have a Wonderful 2009
Judy Allery Azure
Reply from Florence Hiatt Dahl (50):
Gary….I took my lap top over to my grand daighter. and bless her brainy mind, she got my computer back to normal. The moral of my story is, don't let your well meaning friends touch your computer…………….they don't know any more then I do…..which is little. Anchorage is absolutely spectacular right now. Every thing is piled high with snow. The trees are thick with frost. We seldom have wind. AND it is 12 below. I don't miss North Dakota at all, certainly not the wind and the fact that the below zero weather never lasts long in Anchorage…another story in the interior. I'm always amazed at Dick Johnson,s memory…his stories are like listening to Dad's stories. Bless you Gary…………….,,,Florence
Pictures from Larry St. Claire (66):
This picture was given to me by Jim Tooke, his mom took it. Left to Right top row, Donny Mongeon, Mr Hepper, Larry St.Claire (me), Tommy Evans, bottom row, Allen Houle, and Jim Berube. I hope this attachment opens, it's the first time I tried this.
Larry, You did great! both these pictures came through just fine. It's wonderful hearing from you. I was wondering if you were still out there. This a great picture of you guys in Hawaii too. Gary
Top row: Donny Mongeon, Mr Hepper, Larry St.Claire, Tommy Evans
Bottom row: Allen Houle, and Jim Berube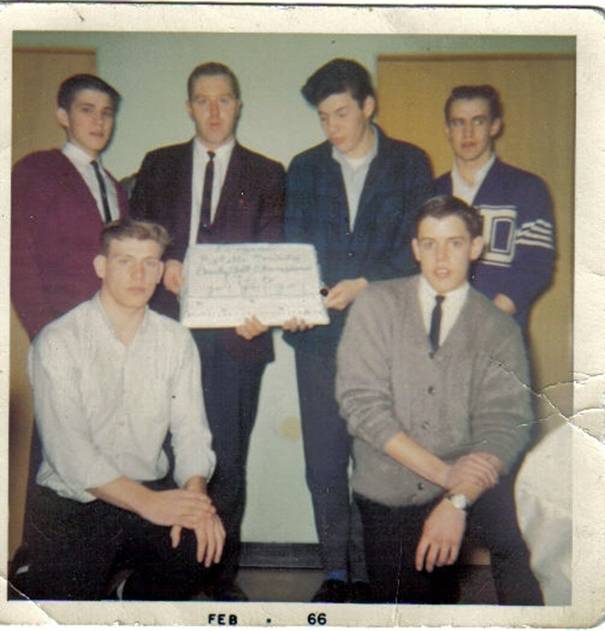 Happy New Year from Larry and Robbie St.Claire in Anchorage, Alaska. It is cold and snowy here, about 13 below for the past week. Brrrrr!. Time to go back to Hawaii. Hope this picture comes through.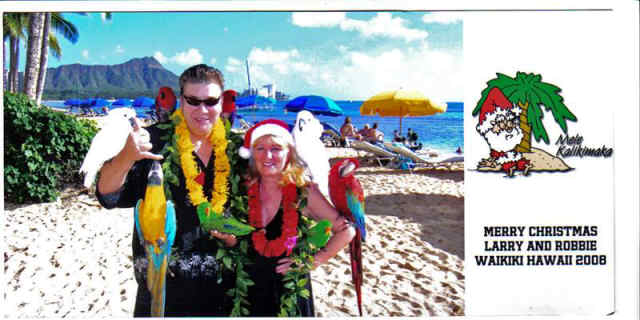 From Sharron Gottbreht Shen (59):
Joan, Uncle Roland Mongeon's step-daughter, shared the Herman Boucher letter and picture of his farm; he enjoyed seeing his old farm and little EJ once again. Uncle does not recall the date of the visit or where in Louisiana Army maneuvers might have taken place. It had to have been a moment of satifaction for FDR having the 34th readied for battle before Pearl Harbor. Alma wrote at the top of her letter "Herman went in May '41, overseas early 1942.
Certainly Rolette County suffered more casualties than the Boucher/Casavant cousins Harvey Grenier [Europe] and Olard Boucher [Pacific], but I also like to recall persons like Roland G Tennacour who died young of illness; made his mark in local history through Ronnald Tennacour. Where would Bottineau County and Dale's be without the plummer who has sorted out folks' problems for 40 years. I've heard he has retired to local golf courses; I hope so.
Herman and Emily Boucher are the parents of Barbara/Gary/Martin/Marvin; Aunt Emily Birkland Boucher lives in LaGrande, OR near Gary. Herman was a lumber jack there for years. I was happy to read that Gary Metcalf is in touch with Barb and will enlarge on Herman's service years. I hope Gary will forgive me for calling him "Greg".
Ernest Boucher, older brother of Herman, born Sept 1910, also served in WWII. He was conscriped about 1943, stationed in England initially, probably with the Quatermaster Corps in armaments. He served behind the front lines in France. At Bastonge he related that there was a foot of frost on the trees the morning of the Battle of the Bulge. He must have been attached to the 10th Army. Ernest Boucher lives in Fort Benton, MT. Excellent memory but does not see or hear well. Ernest Boucher is very modest about his contribution to the Allied victory in Europe. He is fluent in French and I believe he served additional time after the fall of Germany. I recall his visit to Alma in uniform winter 1946.
Sharron
From Sharron Gottbreht Shen (59):
Cousin on the Casavant limb of my family tree, Harvey Orndorf, USMC and Nam vet, sent this indepth reply concerning the entry about Herman Boucher in bootcamp. Interesting to me and perhaps to all. Sharron

---
From: OrndorfH@aol.com
Date: Fri, 2 Jan 2009 20:40:17 -0500
Subject: Family Letter
To: sharron_shen@msn.com
Sharron, I asked a friend and classmate who resides in the Baton Rouge, LA area about probable location referred to in the letter from your uncle "Herman" Below is the response. He is my USMA classmate, Phil StAmant. I really enjoyed seeing the picture of your family when you were expected and EJ as an infant. It is something you will treasure forever. Love, Harvey
---

From: Pastamant
To: OrndorfH
Sent: 1/1/2009 11:15:24 P.M. Pacific Standard Time
Subj: Re: Family Letter

 

Harvey,

To the best of my knowledge, there were no field training locations for Army combat arms units in or near Baton Rouge. Most of the training that occurred in Louisiana prior to and during World War II was associated with the "Louisiana Maneuvers," and the bases–both Army and Army Air Corps–were located in Central Louisiana, in the general vicinity of Alexandria (Rapides Parish), although some bases were also found in Natchitoches Parish, Vernon Parish (where Ft. Polk is currently located), and Sabine Parish.

The most important of the Army training bases was located right by Alexandria, and is still operational as Camp Beauregard, a Louisiana National Guard base.

For a discussion of the various locations, look at the following two websites.

http://www.crt.state.la.us/tourism/lawwii/Maneuvers/Robertson/Camps.htm

http://www.crt.state.la.us/tourism/lawwii/Maneuvers/Studying_War.htm

Baton Rouge was not left out of the war preparation; however, I don't think that's where your cousin was based. So far as I know, the only military training in the Baton Rouge area was at Harding Army Airfield, which is now the Baton Rouge Metropolitan Airport, also known as Ryan Field. It was used for a variety of training purposes, including glider training.

The distance from Baton Rouge to Alexandria, where it is most likely your cousin was based, is today about 110 miles, via I-10 and I-49. In World War II, it would have been a somewhat shorter distance, but it would have taken considerably longer to make the trip.

The 106° temperature mentioned is quite a record for this area. It has happened, but is rare enough that it wouldn't have been an everyday occurrence, even in primitive training conditions. In fact, the all-time high for the state was 114°, which occurred on 10 August 1936 in Plain Dealing (north of Shreveport, near the Arkansas border). Perhaps he was pining for the North Dakota summers, where the all-time high was (I understand) recorded on 6 July in that same year, when it reached 121° in Steele.

Phil
Doreen Bailey's reply to Bill Hosmer's suggestion for a map:
Reply : Vance Bailey has alot of research papers for the Dunseith area.
I found the Township and Precinct Maps and am sending a sample copy of
Hillside so you see what they include. It may be a starting point for
anyone that is interested in the map project. The county court house has a
lot to offer in the mapping department. Vance and I picked these up 5 or 6
years ago. It would take alot of guess work on the locations and lakes etc.
Just a thought! Doreen Bailey, Tempe, AZ
Folks, this map idea is a wonderful idea. I think these Township and Precinct Maps would be a great tool in placing farmsteads, etc onto a good graphical map, if we can find or create one of Rolette county.

Thank you Doreen. Gary