From Martha Lamb Schepp (68): 
Happy New Year everyone!
*It is blowing snow around the corner of our home as my husband and I watched the Tournament of Roses Parade in California. My thoughts went back probably about 40 years when my dear friend Jill Flynn was marching in that parade. My fond thoughts go back to the days of band and chorus in Dunseith, what a wonderful experience, I remember marching in the Minot State Homecoming and thought I had reached the top. We were so fortunate to be under the music direction of Mr. Johnson. I don't know if we let him know how grateful we were.but I'm sure he hears our praises of him in heaven. Anyway Jill you made us proud and to think your music adventure was started under the direction of Mr. Johnson and of course your hard work.
*Another thought to the class of 1968. Do you remember the neat looking quill pens Mrs. Conroy gave us for Christmas in the 4th grade? When I was looking for a gift for the Title 1 students, I thought I haven't seen a quill pen forever in the teacher catalogs. I would have loved to have given them to the Title 1 students this year.
* Can you tell the holiday rush is over? I have time to write now. I always tell my students about going with horses and a sleigh to my Grandparent Abrahamson's for Thanksgiving if there was an early snowfall, and for Christmas every year. There was not a graded road by the Berdsley lake and no mail route or bus route for one mile between us and my Grandparent Abrahamson's. This trail was never maintained. My parents worked so hard to make this a special day for us. The day started our milking the cows, feeding the animals, gathering the eggs, harnessing up the horses hitching up the sleigh, making sure there was fresh straw on enclosed sleigh or sometimes the stoneboat. Plus Mom had made our favorite dishes to take to Grandpa and Grandma's, packed blankets and stoked the foot warmer. One time my Dad had to shovel in front of the horses by the Berdsley lake and the horses would lunge forward as he tried to make a narrow path for them. I remember my brother Dean and myself being scared that the sleigh might not make it through the snowbank or tip over, but Dad always pulled us through. Those horses knew just how to work for him. Once we got to Grandpa and Grandma's, Dad would tie up the horses and give them hay and water, I assume some of Granpa's hay and water. We always pulled our runner sleighs behind as we would spend the day sliding down Grandpa and Grandma's hill by their house, we were lucky there wasn't too much traffic as we went on the main road. We never had a accident. When it was getting dusk and after our last time of an evening feast Dad would get the horses out of Grandpa's barn and we would start home. This is what I remember the most was the jingle of the harness on the horses after dark. I remember that like it was yesterday. We always pulled the runner sleighs and after dark the runner might hit a rock at different times , I remember the sparks would fly.
When we were home 2 miles later, Dad would unharness the horses, we would milk the cows, feed the calves , haul in drinking water and stoke the furnace. Thanks to our ancestors for making our life so easy today. This is when we learn the song to Over the River and Through the Woods to Grandma's house We Go in my Kindergarten class. I'm sure it is the lesson when my heart yearns for the good old days.
* Another thing that sticks out in my mind is that Santa Claus always in real life to Grandma's during Christmas day. Grandma saved the wrapping paper from the year before and ironed it for the next years Santa gifts.
* One more thought I remember is both Grandma Lamb and Grandma Abrahamson always wearing a apron. I happen to have one of my Grandmas aprons. I also have a book My Mother's Apron by Dr. Edward Keller, The author is from Strausburg, North Dakota. Our grand daughters love to wear grandma's apron as we read this book to them. Memories!!!
Love to all and Happy New Year!! Martha Lamb Schepp
Reply from Dick Johnson (68): 
Gary and Friends,
To bring others up to speed on the messages between Larry Hackman and
Larry Millang and me, I need to fill in some blanks. We were discussing
where some of the farmsteads were along Highway 43 and who lived where,
long ago. Larry and I concur on several places and have things fairly
well worked out. The thing I mentioned about Larry being done dusting,
was an inside joke. I told him he blew the dust off some other memories
in the back of my mind. To this he said that we better not let our wives
know we are into dusting or we will find ourselves with another job!
To Diane Larson Sjol,
I may be mistaken totally, but I think when I was a very young kid
someone told me the words to your little North Dakota song were written
by Henry Sunderland from Dunseith. Can someone confirm or correct my
memory? I think Bob and Donna Leonard would know. As I stated, I may
have been mistaken or possibly told wrong. I remember most of the words,
but hadn't heard them for years–cattle and the wheat, and the folks
that can't be beat! True. Thanks Diane!
To Sharron Gottbreht Shen,
Thanks for sending the letter and picture from the WWII era. I assume
Roland Tennancour was a casualty of the war, judging by his young age
and death in 1942. Do you have information on his story that you would
be willing to share? Thanks !
Dick
Reply from Diane Larson Sjol (70):
To Sharon Gottbreht,
I so enjoyed the letter from Herman Boucher and the picture….you can
see the Gottbrehts in little EJ's face in the photo.  I have a
question….my grandmother was Johanna Boucher and married to Fred
Richard (my mother, Verdellis Larson's parents).  They lived on the
farm in Thorne…do you know how we were related to Hermann?  Mom was
born in 1927…Fred and Johanna were married in 1918…born in 1897 I
think….
Diane Larson Sjol
Bill Grimme (65) in Times Square NYC 01/01/09: 
Gary,
Here it is – 2009. Just got back to the room after watching the ball drop in Times Square. The attachment is a picture of Irena and me during our wait for the event. We stood for 5 hours on 7th Avenue. Temp was about 20. Breeze was stiff. Snowed for a little while. I think I just neared, but did not reach, my limit. Damn close, though. This is like Mardi Gras–great to do once, but once is enough.
We are staying in NY until Sunday. Then back to Alabama to say hi to my little dog and cat, then off to Arizona for a little while.
Happy New Year to all!
Bill
Folks, Bill Grimme lost his wife to cancer in about August 2006. Her death was extremely painful for him. It was several months later that I contacted Bill putting our class of 65 list together. Shortly there after I distributed our whole class list to all of our class members.  Our class had not seen one another for nearly 42 years. The release of our class list was great timing for Bill to get reacquainted with all of us helping ease the pain of having lost his wife.  Bill was in no means looking for sympathy, but just talking to folks eased the pain even if he didn't mention the fact to those he talked to that he had lost his wife. Bill called each and every person on our initial class list.  For our class folks, getting a phone call, out of the blue, from Bill Grimme was heart wrenching. Bill was a pretty popular guy, well know for his academic achievements, in our high school days.
In the last while, Bill has been seeing and has become attached to Irena. She immigrated from Russia and has a PHD in I think Chemistry. Bill has told me several times and I keep having Physics on my mind of which is not correct. Irena is a department head in one of the state colleges, I think at the University of Alabama.  Bill, please correct me one more time with the correct info. Thanks, Gary
Bill Grimme with his friend Irena at Times Square in NYC – 1/1/2009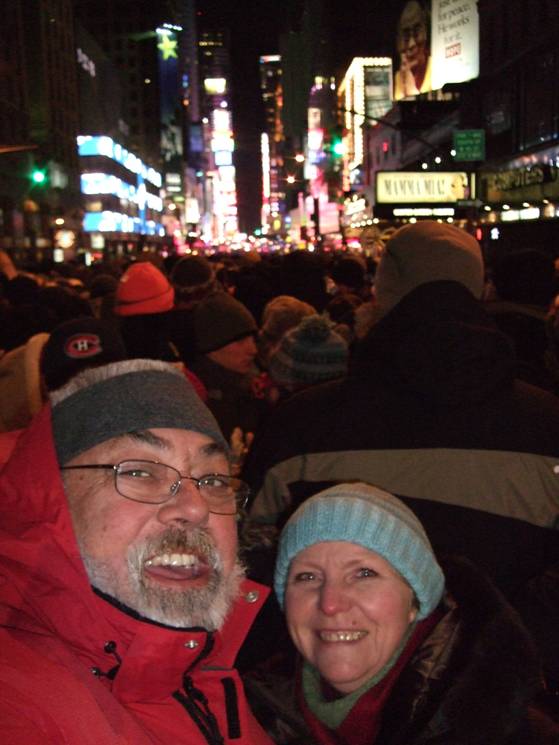 Gary,
Still having fun.
Bill
Bill, I've been up there and it's beautiful. On the top floor, where you guys are at, it feels like one can feel the resiliency movement of the building.  It's so high and that top floor is not very large. It kind of gives you the feeling of being in outer space.  Gary
Bill Grimme & Irena – New Year's Day (2009) at the Empire State Building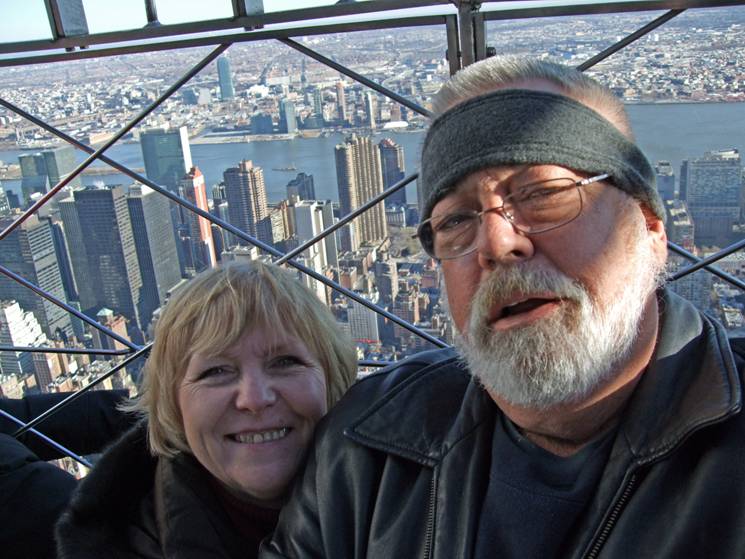 Jeff Skjelver's (Glen & Annabel Shelver's Grandson) reply to yesterday's message: 
"I and Ole Evans went to the Carnival last night & had a few drinks – don't feel so good today but when you get about half drunk it gets your mind off of the Army for a little while – this Army will make more bums then soldiers."
Wow!  It's just like the present with the Afghanistan and Iraq BS in which we currently find ourselves mired.
How prescient of Mr. Boucher.
Yet another truth-speaker:  Wilfred Owen (Dulce et Decorum Est).
Semper Fidelis and Peace…
Randy Hiatt's photo provided by Neola Kofoid Garbe: 
Folks, Randy is Glen (Ikie) Hiatt's son. Ikie is the younger brother of Leola Lagerquist & Netty (Jack deceased) Peterson. Their father was George Hiatt.
The following is a reply from Leola's daughter, Evon Lagerquist.  Gary
Yes Gary, This is our cousin Randy, Ikie's 3rd son. He lives in Langdon,ND now. I believe he is around 44 yrs. old. I haven't seen him in quite a few years, so really do not know his kids. Ikie lives in Rolla now.