Happy Birthday Ruby Krause.
Ruby, I had a message come across my screen telling me it's your Birthday tomorrow, January 24th.
We wish you a very happy birthday, enjoy. Gary
Krause, Ruby
PO Box 87

Phone: (701) 244-5833
Notes:
Former Teacher
Request from Dick Johnson (68):
Gary,

Dick and Vi Hobbs (54) Ziegler would like to be added to the list of daily
blog folks. They would probably like to see the stories of the Hobbs
family that have been posted in the last few days. Thanks Gary!

Dick and Vi Ziegler

Dick, For some reason, I did not have Dick & Vi included with our daily distribution. I have now added them and I have forwarded the last few days messages to them, starting with the posting of Dick's newspaper article.

Dick & Vi, I am so sorry for this mix up. Gary
Reply from Dick Johnson (68):
Gary and Friends,

Harvey Hobbs and his wife, Viola (also his sister's name) operated the
Metigoshe Store. It was just south of the bridge and on the south side
of the curve. We went there many times in the late 50s and early 60s,
usually by boat from the cabin on the south lake. I remember how the
store had lots of steps up the front and you first entered the lunch
counter area. I had many sundaes at that little counter, while the folks
got groceries and supplies. They handled nearly everything lake related.
When the Hobbs' left Lake Metigoshe, I think they moved to Crosby, ND.
Last Memorial Day I walked around at all the cemeteries and at Riverside
I saw the Hobbs grave where Harvey is buried. I believe he passed away
in the last couple of years, if my memory serves me correctly. Thanks Gary!

Dick
Dick, I remember that store and park area well. I was thinking it was Harvey Hobbs that owned that and you have just confirmed what I thought. We frequented his store and park area with many picnic lunches over the years of my childhood. I remember the water cooled pop dispenser that they had. Orange was my favorite, but it wasn't always that we had a nickel or a dime to put in the machine. I remember our good Friends, Oscar and Sylvia Bergan, being connected to the Hobbs' in some way too. Maybe they were just good friends of Harvey & Viola. Gary
Harvey Hobbs' obituary & reply from Doreen Bailey:
Just to clarify
Harvey Allen Hobbs
was full name of Harvey E. and Viola's father. It was very common to use the Middle name in the years past. I believe one reason for it was that so often families repeated the first names from generation to generation to honor fathers and grandfathers, etc.. It makes for some confusion when doing genealogy. I attached the son Harvey's obituary it gives a good outline of his life's activities. Thanks Doreen Bailey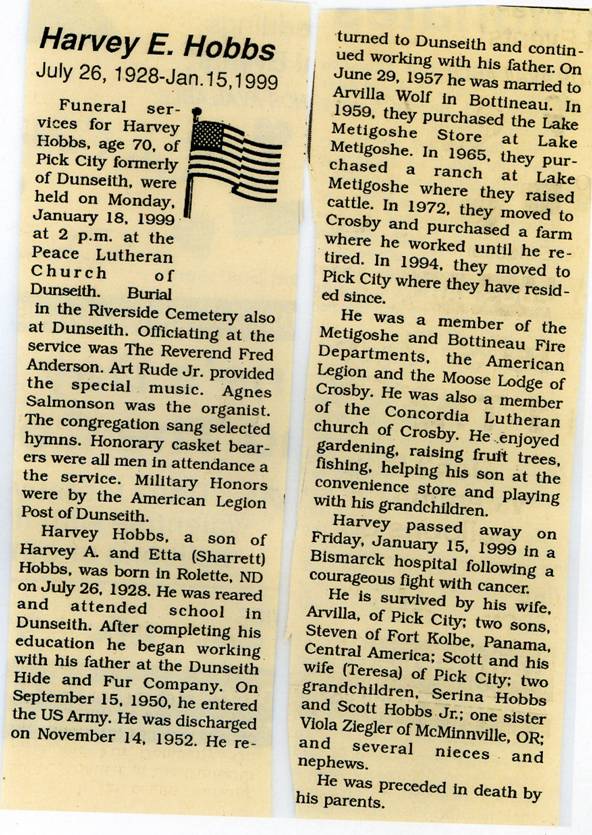 Email address change for Rod (51) & Helen Evans – please udate your files:
Rod & Helen

From Ardys Bakken Horner (Teacher):
Gary had lunch with recent cruise travelers to Alaska and they said even in summer ( July) they needed warm coats, mittens and caps
esp for visits to glaciers and it was cool on board ship, don't just bring summer clothing along. Ardys Horner

From Ginger LaRocque Poitra (65):
In reply to Dick, in reference to Alcide LaJmodaire, I was doing a little
checking, I don't know his parents, but he was a brother to Bud Davis'
wife, who were the parents of LaDot. I was talking to Beverly Parisien,
wife of Albert Parisien, whose mother was a sister to Alice Bergan, Alcide
was just a friend to their family and stayed with them as he did with Leo
and Betty Poitra.

I will search for some more information on Alcide. I remember him coming
to our home too. A lot of people remember Alcide and Ward.
From Vickie Metcalfe (70):
ALCIDE LAJIMODERE
Alcide Lajimodere was a proud native American veteran of W.W.II.
I was told recently that he was listed as a POW,veteran of foreign war and a long time a member of the Belcourt American Legion.
One of my former college classmates,a direct decedent of Ben Lajimodere. Denise Lajimodere told me over 35 years ago that Alcide was a cousin to her dad. Alcide was the uncle of Toosie Poitra Delorme, mom of Carol Ann (Parisien) Lavalle. Tootsie's mother who was married to Ralph Poitra died when Tootsie was 5 years old, Tootsie was then sent to a mission boarding school as were her siblings. Alcide and Mrs. Poitra also had two brothers, Ovide and Francis. I don't know if there were other siblings.
Alcide's parents were friends of my grandparents, William and Rose Metcalfe. My dad, Cliff told me that the couples, visited frequently back and forth as neighbors. Out of respect, dad always referred to them as Mr. and Mrs. Lajimodere. He told stories of riding in the wagon box along with his parents to visit the Lajimodere family where he played with Francis. Francis who was about my dads age, called my dad from Grafton ND, every New Years Eve, the last few years dad lived
Alcide lived at various places.
Among the various seasons of farm work in the Turtle Mountains: Harvesting of trees for firewood usually in the winter when a fallen tree would be rolled up on a sled and pulled out by a team of horses brought into the home yard and piled. Calving and lambing season,Fencing season came as soon as the ground thawed in the spring, Castrating and dehorning season. Sheep shearing season. Planting crops season. Cultivating and summer fallowing season which included rock picking. Cleaning the calf pens season. Haying season. Fence post sharpening season. Sawing up the dried logs. Putting up and hauling hay. Wood splitting season. Harvesting. Among many jobs dad hired help for.
When we were youngsters our dad Cliff hired men seasonally. When we were adolescents I along with my sisters, Nancy and Cyndy became the hired men.
Many of the men dad hired worked in their areas of expertise. As I recall, all had the utmost respect of both mom and dad. Mom cooked 3 square meals a day and also served lunches. She felt that working men needed hot meals. She also found out their favorite meals and made a habit of cooking one of their favorite meals for them. Alcide's favorite meal he'd ask for was Mom's Chop Suey.
When the time came to pay to pay a hired man, Dad would always always say, "How much do we owe you" Then he'd say, "Get the checkbook Lottie" and tell her to write the check for more,usually saying to the hired man, "You're worth more."
My sister Nancy and I have fond memories of Alcide Lajimodere beginning when we when we were small small children living in the house with no plumbing. But when working for dad he usually fenced, sharpened fence posts or hayed. And he'd stay for maybe a week at a time.
Alcide was undoubtedly a very homely man.
Dad would say to us Alcide Lajimodere is as "homely" as his sister the first Mrs. Ralph Poitra was beautiful. WOW! We girls thought …."She really must have been a beauty!" Dad also said Alcide was kind,honest,trustworthy, a hard worker and a story teller. We were not to be frightened of him but treat him with respect. And we did because we never heard him speak disrespectfully or swear.
Alcide was of medium dark complexion with native American features. He was tall and rangy thin, wearing clean blue chambray work shirts and denim blue work pants and his straight black hair was always trimmed. He didn't have hardly any facial hair. When he cleaned up before meals he'd always wash up, then look at himself in the mirror combing his hair he's say something like, " um hum, What a handsome man". We girls eyed him with wonder, WOW! He really believes that?"
Then after a meal we girls would be entertained by Alcide's' far fetched stories. At times I'd get scared and he'd look at me and say something like, " Oh this wolf wasn't a really a bad wolf, he was a nice coyote.'
There was one exception to the far fetched stories. It was usually the last story of the day. It was a story I heard Alcide tell many times over the years. And my dad said it was true.
It went like this. Alcide said, " I was captured by the Japs. They made us walk and walk and walk through the jungle and didn't feed the Americans." "One day me and some guys got away." "We were running, running, running day and night through the jungle." "We tried to hide but the Japs continued to chase us." "One guy was killed while running." "Then,we were down to two of us just wearing our skivvies." "We ate insects and fruit when we could", "The other guy fell I said, get up and tried to move him, carry him." Saying, We gotta keep moving, or we will be killed. "But refusing to move, he said, … They can kill me right here then… because I can't go any further." "So I left him and I was alone for a time." "One day some American soldiers came and I stepped out into a clearing hunched down with long dirty hair and dirty skivvies ." The soldiers pointed their bayonets surrounded me, told me to put my hands behind my head." (He'd say, like this and he would show us) "Then, one of them spoke very slow and loud, who are you and what are you? " ( We girls then would really be wide eyed imagining Alcide, very brown, wearing only dirty bottom briefs ,ie skivvies with long stringy hair.(Then Alcide would get up from his chair straighten himself up to his full height) ..and finish the story…say, " I said, (insulted) Haven't you ever seen an American Innian". (Then Alcide would proudly walk out of the room.) Blessed be the memory of the kind,gentle, PROUD AMERICAN INNIAN VETERAN…..ALCIDE LAJIMODERE..Vickie Metcalfe