Message from Dennis Dubois ('63):  Minneapolis, MN
As some of you know, Laurel Hiatt is going through a battle with cancer. They are having a fund raiser on September, 22 at the Midway bar. I encourage all of you to show your support of this endeavor by sending a check to help out our classmate in this tough time. I especially encourage the class of 1963 to step forward for Laurel at this time. You may send your contribution to: Larry Allard                Any thing you can do will be greatly appreciated.
Thank you so much.                                                                                     
9640 23rd Ave N.E.                                 
Dunseith,ND 58329                                                                                                                        PH # 710-228-3723
Reply from Debbie Fugere Fauske ('75):  Minot, ND
I'll pass on Bill Hosmer's greetings to dad.  And thank you, Bill, for the kind remarks about our "clan". Dad is now living in a private assisted living facility here in Minot.  If anyone is interested in sending a note or calling him, I know he'd love it. This wonderful man never complains, but I'm sure the days get long. 
Address: 1608 16th St NW Minot
Reply from Paula Fassett ('71):   North Branch, MN
I, too, enjoyed seeing the photo of the Duane Fugere family.  Just recently there was a story on the local AM news of a school bus somewhere here in the Twin Cities that somehow got mis-routed and dropped some small children off at the wrong locations.  Kids were scared and parents were frantic.  I thought to myself, that would NEVER have happened with a Fugere/Hill school bus!!!
Paula Fassett
        Wilma Fugere Evans Family at the Fugere Reunion in Minot – 2012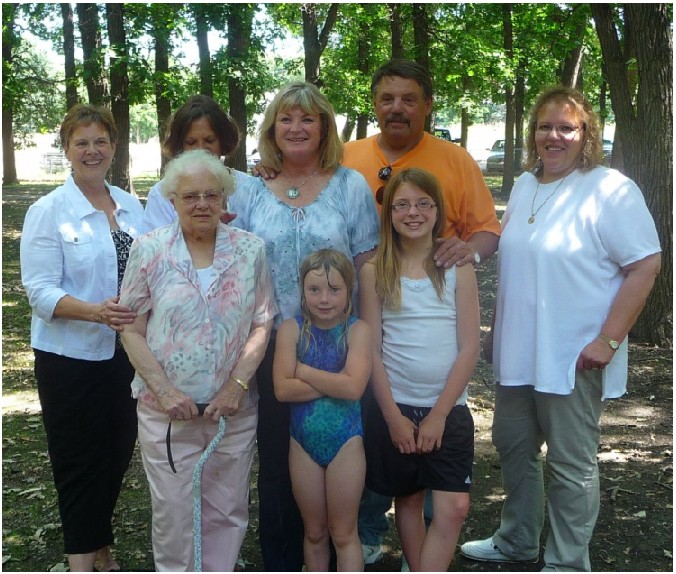 Elwood Fauske and Rod Hiatt ('69)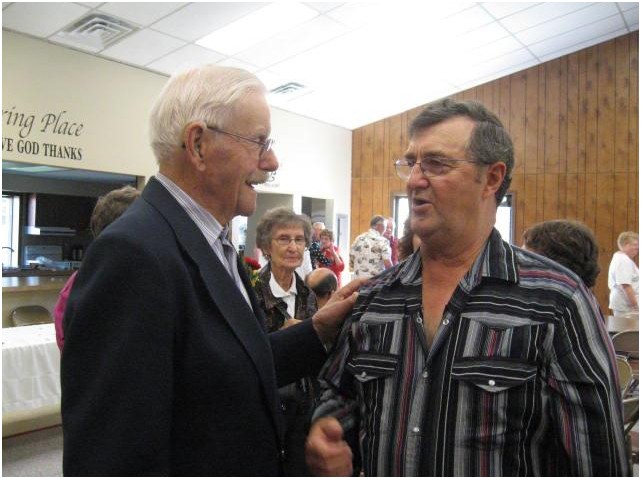 This one is priceless. A lesson to be learned from typing the wrong
email address!!
A Minneapolis couple decided to go to Florida to thaw out during a
particularly icywinter. They planned to stay at the same hotel where they spent their
honeymoon 20 years earlier.Because of hectic schedules, it was
difficult to coordinate their travel schedules.
So, the husband left Minnesota and flew to Florida on Thursday, with
his wife flyingdown the following day.
The husband checked into the hotel. There was a computer in his room,
so he decided tosend an email to his wife. However, he accidentally left out one
letter in her email address,and without realizing his error, sent the e-mail.

Meanwhile, somewhere in Houston , a widow had just returned home from
her husband'sfuneral. He was a minister who was called home to glory following a
heart attack.

The widow decided to check her e-mail expecting messages from
relatives and friends. Afterreading the first message, she screamed and fainted.The widow's son
rushed into the room,found his mother on the floor, and saw the computer screen which read:

To: My Loving Wife
Subject: I've Arrived
Date: July 19, 2010

I know you're surprised to hear from me. They have computers here now
and you areallowed to send emails to your loved ones. I've just arrived and have
been checked in.
I've seen that everything has been prepared for your arrival tomorrow.
Looking forwardto seeing you then! Hope your journey is as uneventful as mine was.
P. S. Sure is freaking hot down here!!!!