Hurricane Sandy – Report from Lee Stickland's Son
Lee (Leland) Stickland ('64):  Dickinson, ND
Gary,
Little note your way to say that I have heard from my son Eric who lives just north of Boston and 2 miles from the Atlantic.  He, his wife, Kim and my grandson SAM are just fine.  They did lose power for a bit but have a large generator and Eric had 15 gallons of gas in safe storage for that use and for the vehicles, worse come to worse.
Have heard of no threats of hurricanes for SW ND ,  YET   , this  fall.  Maybe some snow B4 April?   Lee
For Cathy Campbell Springan ('73): Stanley, ND
Hi Gary, 
My email address has changed. 
Thanks so much, 
Cathy
Wake up every morning with the thought that something wonderful is about to happen.
 

I love your caption below your signature line. For me I just tell myself that something wonderful has already happened. I woke up.

 
FB capture – What a nice picture
Lyle Olson ('75): West Fargo, ND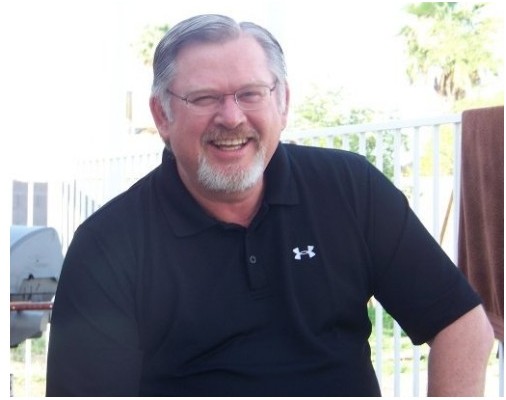 Diane and Scott,
Posting from Don Aird:  St Louis, MO
Looks like we're going to be eating good this year!!!!
Please see attachement.
Dunseith Centennial Belt Buckle
Picture/Message from Dick Johnson ('68): Dunseith, ND
Gary and Friends,
 The old Riverside Hotel along the creek was
about the first building built in town and served as the headquarters
for the cavalry troop as well as a hotel. It survived until the 1960s
when it was torn down. Again, this was considered 'progress' and
necessary in keeping a modern image for the town. The last people to
live in the building were Darrel and Lorna Abbey and I asked Darrel to
draw me a floor plan of the building, which he did and I still have. I
was asked to design a belt buckle for the 1982 Dunseith Centennial. I
did this and used the image of the Riverside Hotel as the central focus.
I corrected my original design to read Dunseith–Dakota Territory,
rather than North Dakota, because Dunseith was established 7 years
before North Dakota became a state. I worked with Rod Hiatt on finding a
company to cast our Dunseith buckle. We found a place in Norman,
Oklahoma that had a good reputation, and had them make the buckles. I've
worn this buckle every day for years and it still looks good. I'm
attaching a picture of it to show the Riverside Hotel image, or Cavalry
post, depending on it's use at the time. Thanks Gary!
Dick
Dick, In 1982 my dad gave me one of those belt buckles along with a heavy duty leather belt, of his, for my birthday. From 1982 until 2002 I wore that belt with that buckle nearly every day.  In 2002, when I was Temporary Duty (TDY) working a Submarine job at Kings Bay Georgia, the belt came apart where the buckle attached. I purchased another belt from one of the flea markets in the Jacksonville Florida area and wore it, with that buckle, until a year ago, when the belt came apart.  When dad died, I got his buckle too.  All these years I never knew who designed that belt buckle.  Now we know.  You did a wonderful job designing that buckle and having it cast.  I had many nice compliments about that buckle.  Are there any available today that folks can purchase?  Gary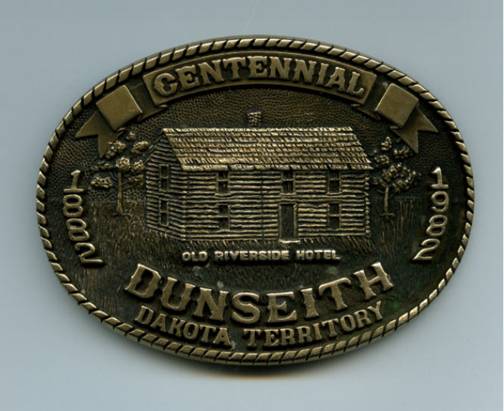 Martha Lamb's (68) Wedding
Provided by Neola Kofoid Garbe:
Bottineau & Minot, ND