Carmen Myer – DHS Class of 1967 – Obituary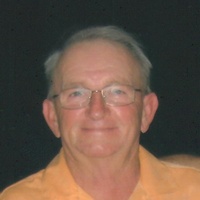 Posted by Neola Kofoid Garbe:  Minot, ND
April 16, 1949 – October 11, 2018
Carmen Myer
Carmen Myer, age 69 of Dunseith, died Thursday at his home.  His memorial service will be held on Saturday, October 20, 2018 at 10:00 am at the Peace Lutheran Church in Dunseith. 
Carmen Myer, a son of Johnnie and Patti (Schmidke) Myer, was born on April 16, 1949 at Bottineau.  He was raised on the family farm near Dunseith and graduated from Dunseith High school in 1967.  On June 27, 1970, he married Beth Coleman in Dunseith.  They made their home on the family farm near the International Peace Gardens where they farmed and ranched.
Carmen passed away on Thursday, October 11, 2018 at his home.
He is survived by his wife Beth; sons, Ryan (Denise) Myer of Lake Metigoshe and Justin (Sandra) Myer of Brighton CO; grandchildren, Hailey, Nathan and Taylor; brother, Garrett Myer of Decker, MT; sister, Holly Wheeler of Casper, WY and nieces and nephews.
In addition to his parents, he was preceded in death by his son, Patrick Myer, and brother, Mickey Myer.
Arrangements were with Nero Funeral Home in Bottineau.  Friends may sign the online register book at www.nerofuneralhome.net.
Carmen Myer Memory
From Allen Richard ('65):  Grand Rapids, MI
 So sad to hear. Turman was one of the best of the best.
Condolences to Margaret Metcalfe Leonard Casavant ('65)
From Ginger LaRocque Poitra ('65):  Belcourt, ND
 Morning Gary,
First of all I am sending my condolences to the many who have lost a loved one in this short span of time.
To Margaret Metcalfe, Leonard, Casavant. Who is from my class of 1965. I send my heart felt thoughts to you,  l realize no words can truly comfort you with the loss of your husband. May your heart and sole find peace and comfort in time.
May God bless all the families who lost loved ones.
Ginger Poitra (class of '65)
Posting from Ginger LaRocque Poitra ('65):  Belcourt, ND
Hey Gary!
I was watching a documentary the other day on TV. There was something of a place in Old Japan, New Jersey. The name of the place is, " Stokes Farm."  Cider donuts and other items that are on the farm are sold there.
Ginger
Hey Gary, isn't  Holly Wheeler Carmen's sister?
Gary's Comment
Ginger, My kind of farm too. I live Donuts. Yes, Holly Myer Wheeler ('68) is Carmen's sister.
==============================================
Blog (748) posted on March 19, 2010
Folks, I have gotten several replies, from folks using AOL, telling me that yesterday's message was delivered in what appeared to be a ZIP file format. I am doing nothing different on my end, so the system must have taken it upon it self to do reformat yesterday's message for some of you folks. Please let me know if this problem continues. Thanks, Gary
Reply To Les Halvorson:
From Paulette LaCoix Chisholm (68): Newark, Delaware
Les,
Thanks for the kudos on our nephew. Jerry's son, Marc LaCroix enjoys playing sports. Ken and I were out to dinner when my sister called from Rugby where Marc scored the winning points with a layup in the last 4 seconds in the first round of the tournament. It was hard to contain our excitement in the quiet candlelit atmosphere.
In the story, I enjoyed the remarks made by Petric that the huge Minot gymnasium, being the biggest thing they'd ever seen at that point, could hold a lot of hay. It was amusing too that their monastic focus on winning would make them abandon beer and the thought of girl friends. Who knew tractor ruts and cow pies which inhibited a dribble would aid Bowersox in honing his long shots.
Wolford was home to my widowed grandfather on my mother's side, John Click. We often visited him there where he lived with his brother. Wolford's youth challenged themselves and came out winners that gave us all a boost. You guys from Wolford make us all proud.
Thanks Gary and Les,
Paulette LaCroix Chisholm
Les Halvorson and the Wolford Wolves:
Reply/Picture from Dick Johnson (68): Dunseith, ND.
Gary and Friends,
Les Halvorson's memory certainly hasn't begun to fail! Thanks Les for the great story of the Wolford Wolves basketball team. I remember losing a heartbreaker to you guys in a tournament in Rolla in overtime. We lost by one point at the buzzer. I would like to mention a little about Les' own personal ball playing. Dunseith was a fast team and we often worked a full court press to our advantage. Les was one of the best ball handlers in the area. When we threw the press on Wolford, they always switched around so that the ball was passed in directly to Les, who then brought the ball up the floor by himself. He could dribble right through the press and behind his back if needed. I learned early on that when guarding Les, if he started to grin, you better be backing up! He would be past you before you knew what happened, if you were too close. Wolford coach Ross Julson had a good way of switching players in and out. If someone made a small mistake or looked tired, he would run in a new player off the bench. This made for a complete team of quality players who could come into a game without seeming like a second string man. If one fouled out, the next one in already had the game in hand. Other coaches usually played only the five best players and the rest of the bench were only used in an emergency. Maybe it was only my observation but I thought that Ross Julson always had such a cool head. He never seemed nervous or upset even if the game was tight. I wasn't in the locker room with them so this is just my perception of him from the court. Les is a modest guy and certainly wouldn't mention his exceptional abilities at handling the ball, but he needs to be given credit for this. I guess I can verify this as I was often on the receiving end and was a quick learner when Les taught me the lessons! Thanks Les and Gary!
Wolford Wolves 1967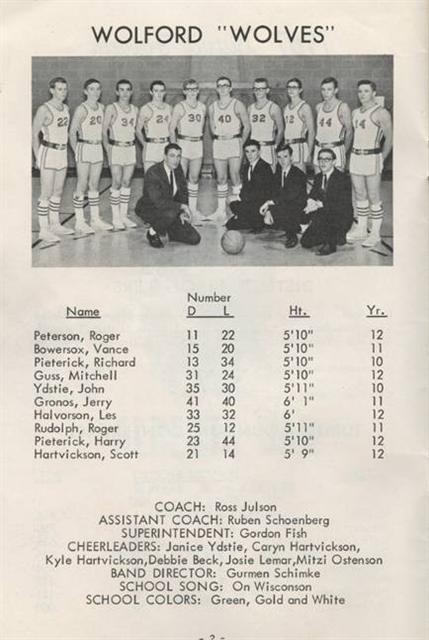 Question from one on our alumna:
Have you ever heard about the Fess/Raymond hunting trip in Turtle Mountains? I never have. Wonder if it's true?
Ed Milligan:
Reply from Dick Johnson (68): Dunseith, ND.
Gary and Friends,
The picture of Ed Milligan sure brings back a lot of memories. He taught history and social studies at the Forestry when I attended from'68-'70. History was one of my favorite classes and Ed really added to it with his personal observations. He was a WW II vet and saw a real side of war that he related to us in his daily lectures. I bet there are very few history instructors who actually lived through the battles they were teaching about. Ed was one. He also was a hands on kind of guy who really dug in and studied what he was teaching. It was from Ed that I first heard of the local history about the mooring stones that are along the foothills north of Bottineau. These stones are believed to be where the Vikings tied their ships to explore the Turtle Mountains. The large stones have holes bored through them in the same way the Vikings did it in other areas the explored. The entire prairie was covered by Lake Agassiz until about a thousand years ago, allowing ships to travel all the way inland from the Atlantic. Many years ago I saw a picture of Ed Milligan holding a Viking sword that had been found in the Turtle Mountains. He also told us about the 'cave' along the foothills that appeared to have been built using Gothic techniques of stone work with a keystone wedge at the top. He said this was definitely European and not native to this area. This is a very significant part of local history that not too many people put much significance in. If the Vikings were in fact the first people in the last several thousand years to walk in the Turtle Mountains, it could alter much of the history as we know it. I find it fascinating! Thanks Gary!
Dick
Gary Morgan (54):
Message/Picture from Glen Williams (52): Missoula, MT
This Dude is a 1954 Graduate of DHS and played running back for the football team….look at him now..
He will be at the Alumni gathering in May…be sure to say hello to him…
Thanks for all your work for the Alumni..
Let me know if you have problems opening the attachment..
Glen Williams
Gary Morgan (54)